Although neither of us are vegan—Kris is vegetarian—we've always been big fans of vegan dishes and the creative use of ingredients many of them employ. Plus, now more than ever we need to consider the impact our behaviors have on the environment. Along with reusing/recycling items, using fewer plastics, and avoiding harmful chemicals, plant-based eating has a huge impact on the environment and living a more sustainable lifestyle.
We started making this vegan fried calamari dish over the holidays and really enjoy its texture and flavor. Much like our Vegan Fish Tacos using banana blossoms, naturally tender and briny hearts of palm make for a startlingly realistic "calamari". Rings of hearts of palm are lightly coated in a batter seasoned with Old Bay and nori (i.e., seaweed) and fried to golden perfection. The cooked rings look like calamari and taste like calamari, and if you tell your guests the dish is fried calamari, they'll likely believe you! This is a great recipe as an hors d'oeuvre, served with your favorite marinara or dipping sauce!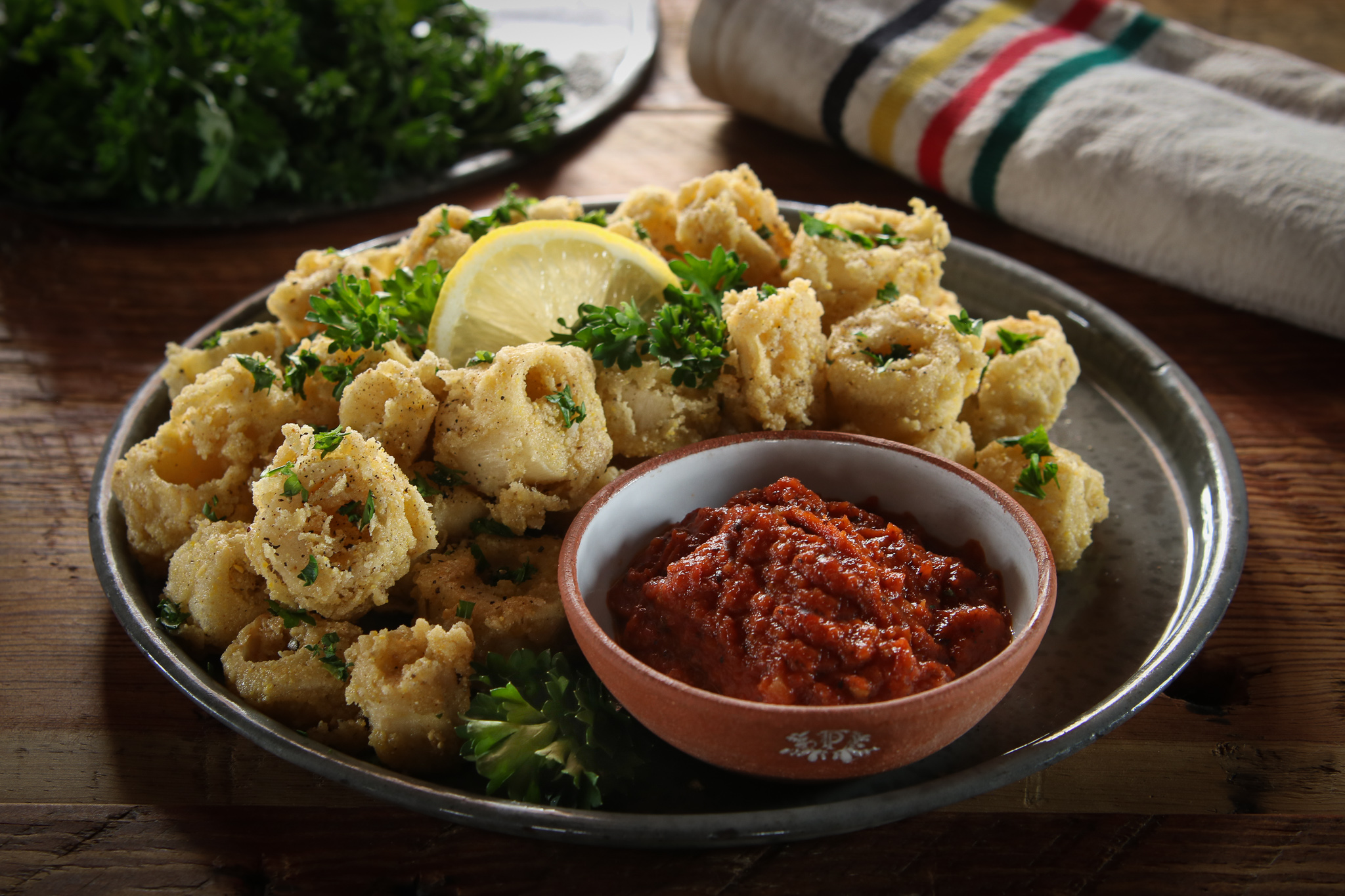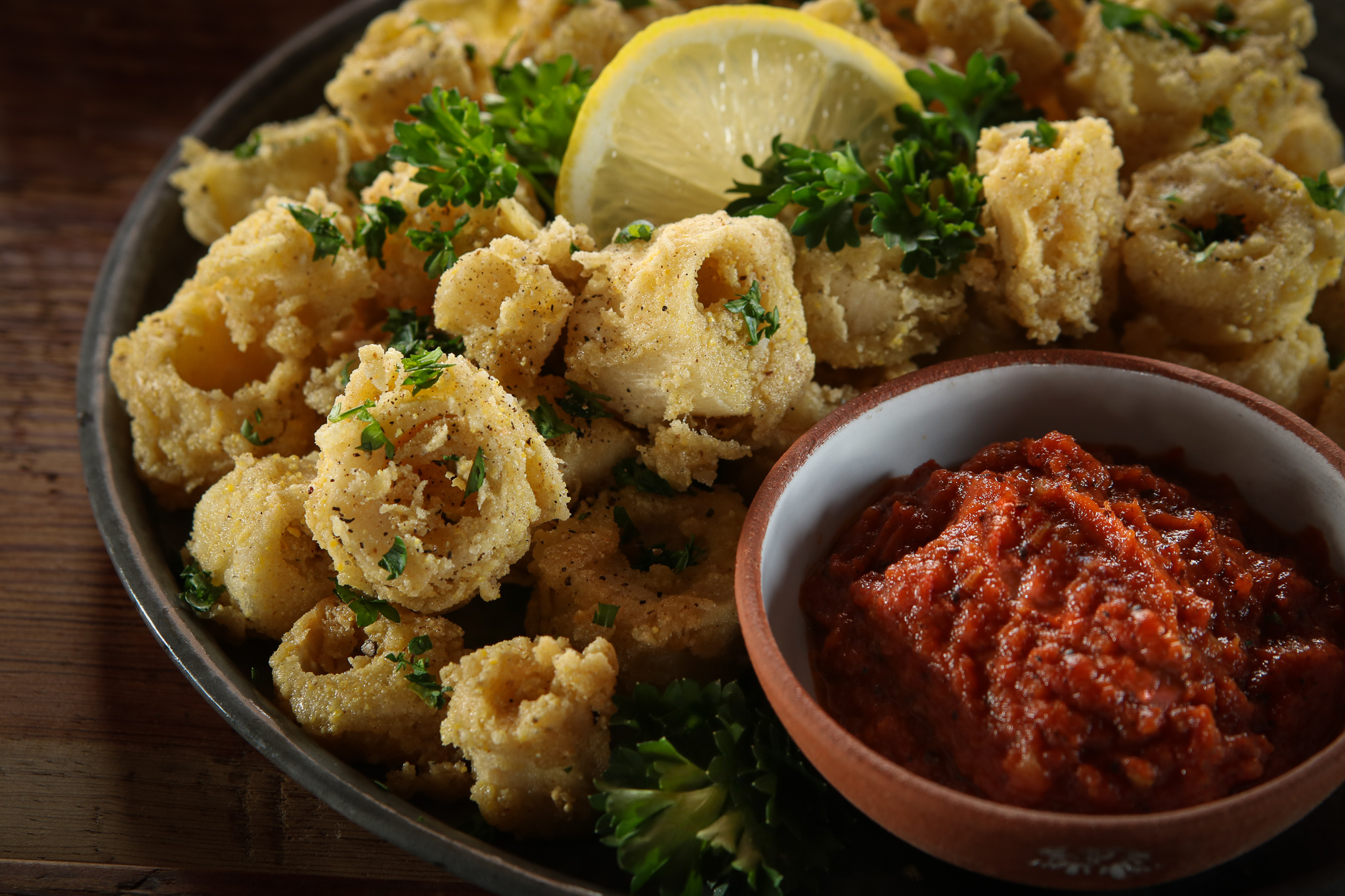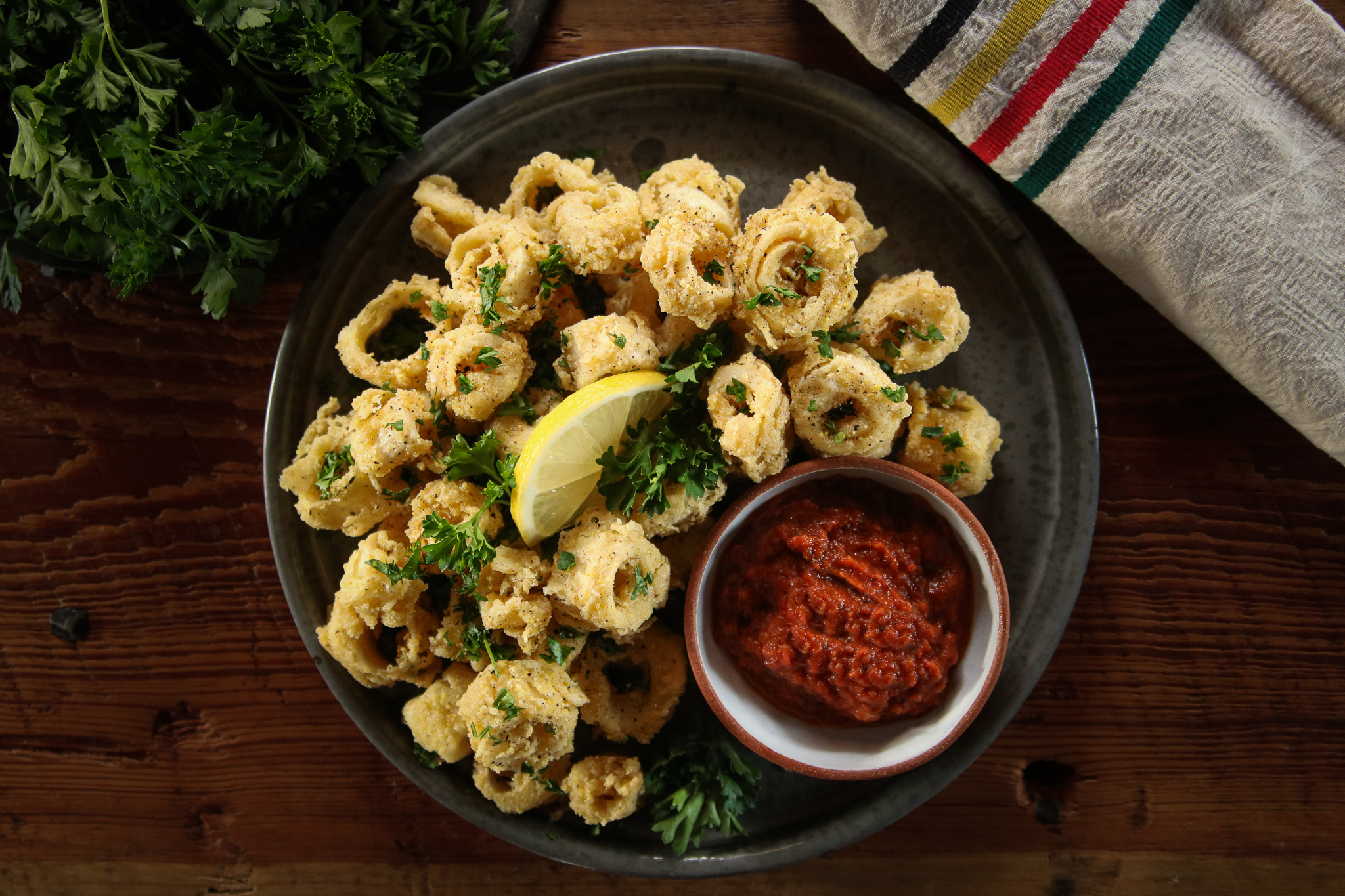 Put the cashews in a bowl and pour in enough cold filtered water to cover. Cover with and refrigerate for at least 12 hours.

Drain the cashews in a colander and rinse with cold water. Transfer cashews to a blender and pour in enough cold filtered water to cover them by 1 inch, about 3 cups. Blend on high for 2 to 3 minutes, until smooth and creamy without any trace of graininess. The cashew cream should be smooth on the palate (you add more water if necessary). If you're not using a heavy-duty blender, you may need to strain the cashew cream through a fine-mesh sieve to get rid of any grittiness.

Cover and refrigerate until ready to use. It will thicken as it sits, so blend with ½ cup of filtered water if needed to reach the desired consistency.
For the batter and hearts of palm
Prepare the batter: Put the cashew cream in a bowl and add the water, ground nori, salt, and pepper. Stir the batter to combine; it should be smooth and not gloppy in the slightest. Set aside at room temperature to let the flavors meld while you prepare the hearts of palm.

Prepare the hearts of palm calamari: Trim both ends of each heart of palm to expose the center; this will make it easier to see and remove. Working from the narrow end, gently push out the insides of each cylinder, using your pinkie or a chopstick. Some pieces will be easier to gut than others — don't worry if a few split. (You can reserve the insides for another use)

Using a paring knife, carefully cut each hollow spear into four 1-inch-wide rings. You should end up with about 48 pieces.

Add the hearts of palm to the cashew cream batter, gently turn the pieces over with your hands until thoroughly coated. Set aside.

Put the cornmeal in a food processor and process to a fine powder. Transfer to a large mixing bowl, add the rice flour, Old Bay seasoning, salt, and pepper, and toss to distribute the ingredients evenly.

Using a slotted spoon, working in batches, scoop the hearts of palm from the batter, letting the excess drip back into the bowl, add to the cornmeal mixture, and toss with your hands until evenly coated on all sides. Transfer the breaded hearts of palm to a strainer set over a bowl, or work over the sink, and shake off the excess cornmeal. This is a key step to ensure that the cornmeal crust is light and not clumpy whatsoever. (All of this can be prepared up to 2 hours in advance. Arrange the breaded hearts of palm in a single layer on a baking sheet and refrigerate, uncovered. Allow the hearts of palm to come to room temperature before frying.)

Deep-fry the hearts of palm calamari: Heat 2 inches of oil to 325°F in a cast-iron skillet or heavy saucepan. Working in batches, add the hearts of palm to the hot oil and fry, carefully turning with tongs, until golden brown and crispy on all sides, 2 to 3 minutes. Remove the cooked pieces to a paper towel-lined platter to drain. Season the hearts lightly with salt, pepper, and a sprinkle of Old Bay seasoning while still hot.

Place your fried hearts of palm on a large platter and serve with your favorite marinara sauce, lemon wedge, and garnish with chopped parsley.