To us, Valentine's Day is really just the perfect excuse to whip up our favorite desserts and cocktails and share them with all of you! Last year everyone was loving our simple and sophisticated Chocolate Truffles, they've always been a big hit any time of the year.
This year, Kris is sharing one of our favorite mousse recipes that he started making a few years back. When we whip up something sweet we take no shortcuts. Full fat, full sugar. Desserts are a treat. And because they are not something we make regularly, they deserve some special attention. Which means referencing the goddess (i.e., Julia Child) and cross-checking with her progeny (i.e., David Lebovitz). Our recipe for Chocolate Amaretto Mousse doesn't stray far from the classic French template nor should it: simple, high-quality ingredients and well-executed technique will always result in a dish that is nothing short of magnifique. The savory and buttery Pink Peppercorn Shortbread Cookie pairs wonderfully or just as delicious on its own.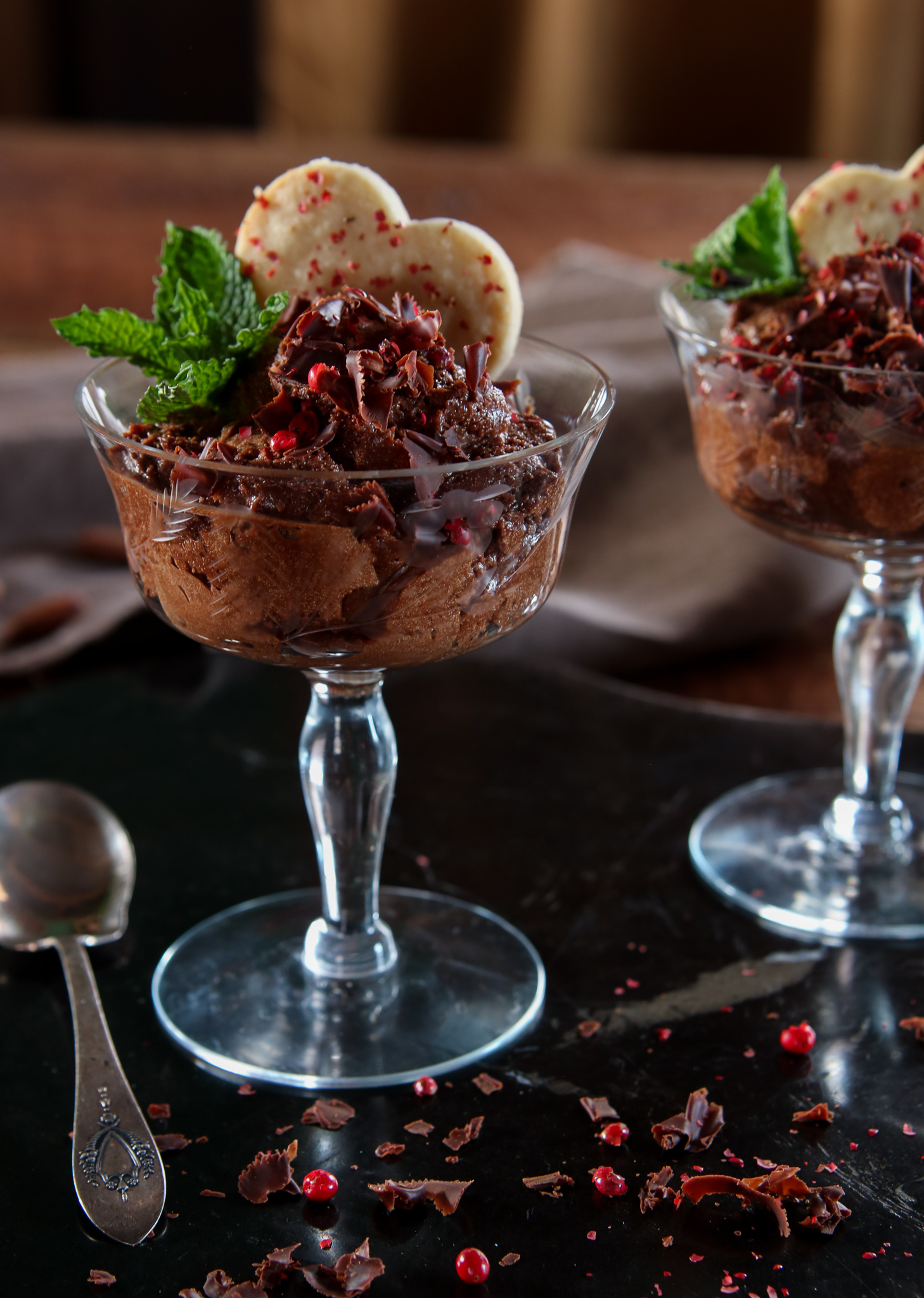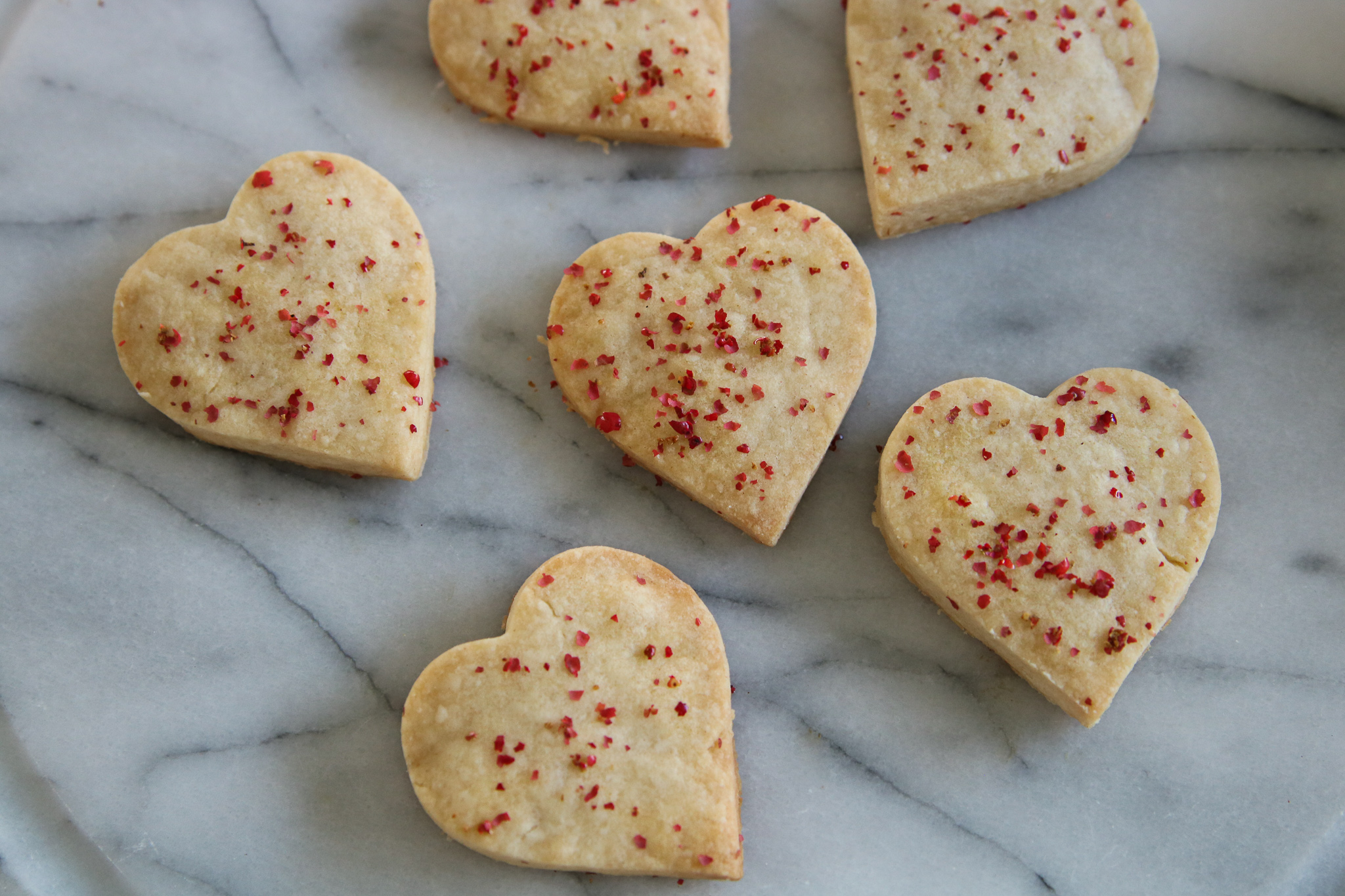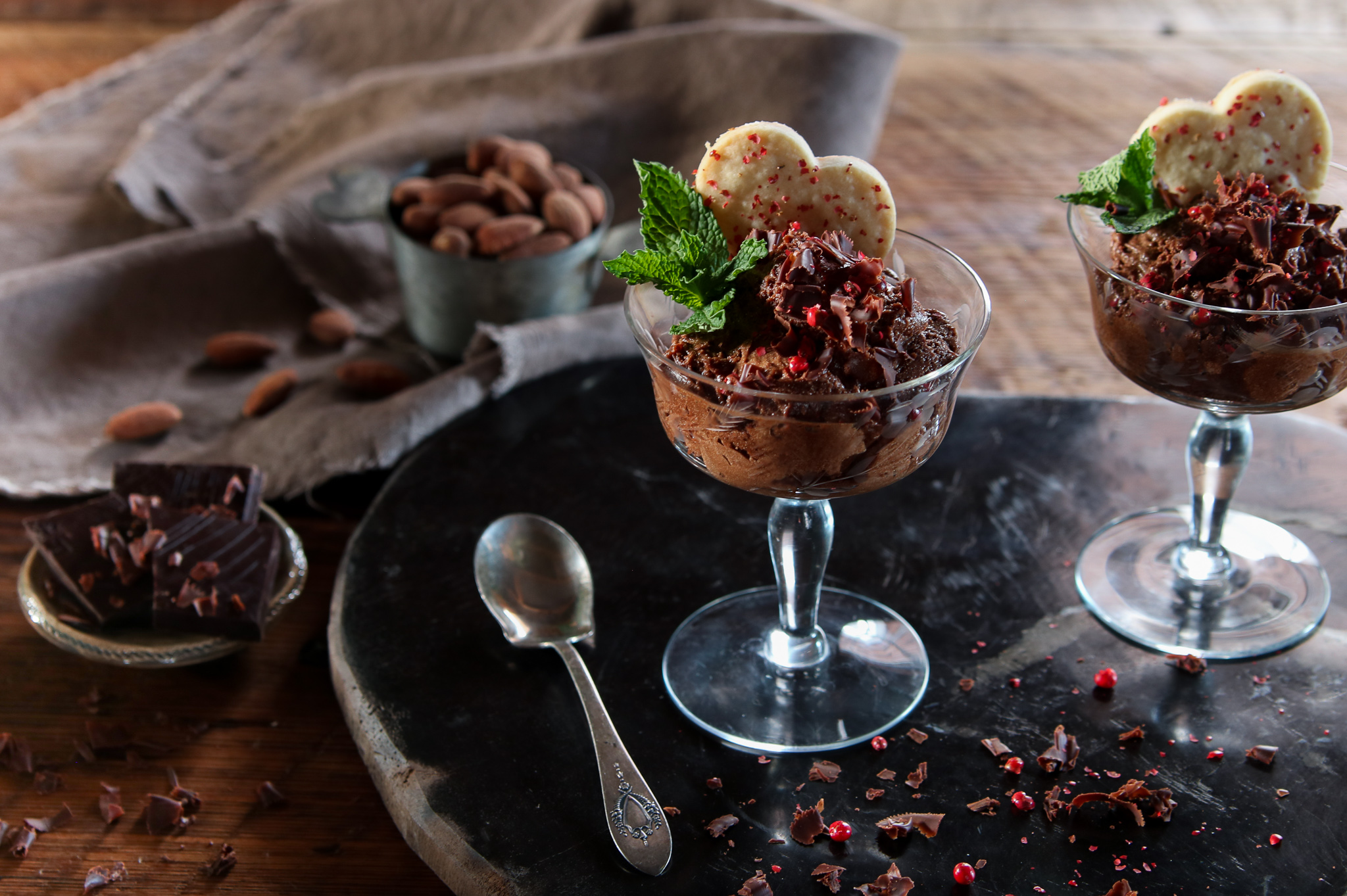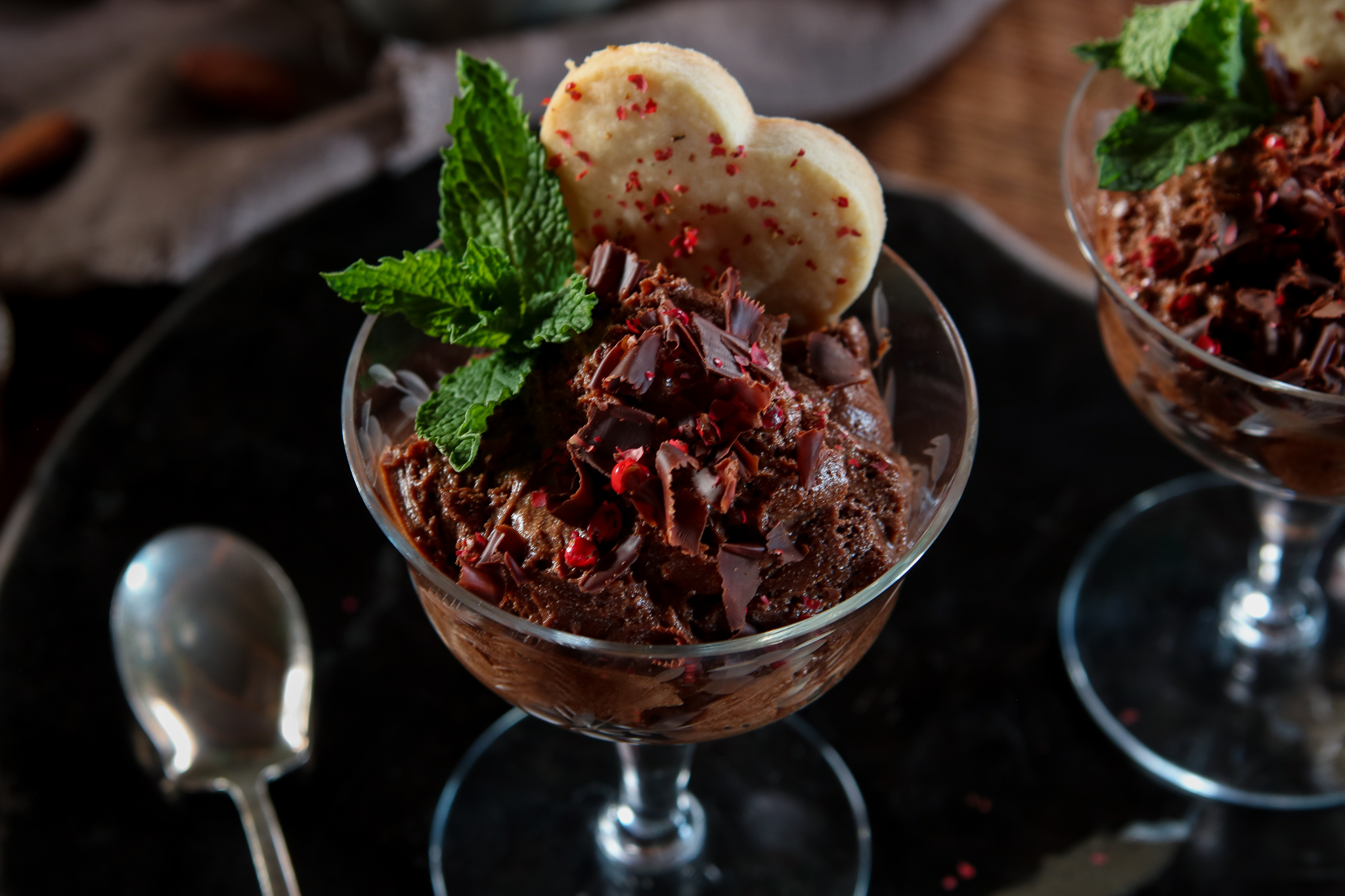 Make the Shortbread cookies
Preheat the oven to 300°. In a stand mixer beat on medium speed: butter, powdered sugar, sugar, and salt until very fluffy and well blended. Gradually sift flour over the top while mixing until well blended and smooth. If the dough is too dry to hold together, sprinkle a few drops of water over it, adding only enough to hold the dough together and being careful not to over moisten it.

Roll gently with a lightly floured rolling pin to 1/2" thick or pat to the desired thickness with the palm of your hand. Cut out with a heart-shaped cutter and place on cookie sheets with parchment paper. Lightly mist cookies with water using a spray bottle and sprinkle crushed pink peppercorns over cookies. Bake until the shortbread is faintly tinged with pale gold and just slightly darker at the edges, 20-25 minutes. Allow to cool to room temperature.
Chop the chocolate and butter into small pieces and combine with coffee in a heat-proof bowl. Whisk together in a double boiler or pan of very hot (but not boiling) water until completely smooth. Alternatively, microwave the ingredients for 15 seconds, whisk and repeat until completely smooth.

Combine the egg yolks, sugar, amaretto, and water in a heat-proof bowl. Separately, prepare an ice water bath large enough to fit the egg yolk bowl. Next, place the eggy yolk mixture over a saucepan of simmering (but not boiling) water and beat until it has noticeably thickened. It's going to take some muscle though you can also use an electric beater. When the mixture reaches a runny mayonnaise consistency transfer the bowl to the ice bath and continue to whisk until cooled.

Fold chocolate mixture into cooled yolk mixture and set aside.

While you're mixing the yolks and chocolate you can begin whipping the egg whites. Using a stand mixer, beat the eggs and salt until they begin to hold their shape on the whisk attachment. Continue to beat the eggs while sprinkling the sugar into the bowl. When the egg whites are shiny (i.e., they begin to look more like a mousse than a foam) add the vanilla and almond extract with the mixer still beating the egg whites. Keep beating the egg whites until the whisk attachment can easily hold a good glob of shiny mousse.

The secret to a light mousse is to avoid overmixing. A few streaks of white are ok; as the mixture chills it will become more uniform. Gently fold one-third of egg whites into the chocolate mixture at a time. Cover with plastic wrap and chill for a few hours or overnight. Remove from refrigerator 10 minutes before serving. Scoop the mixture into serving dishes, we like champagne coupes. Garnish mousse with a shortbread cookie, shaved chocolate, and pink peppercorns.