Bread baking, unlike most forms of cooking, relies on exact measurements and cooking times. There is a level of freedom with focaccia, however since it lends itself so well to toppings. In Italy, we even saw focaccia-topped hot dogs (perhaps for the plentitude of German hikers we saw in Cinque Terre?). In summer, we love to top our focaccia with fresh herbs, cherry tomatoes, onions, or even edible flowers! (note, the flowers don't bake as pretty as you cut them) You can also keep it simple, using the best quality ingredients currently in season. The trick to our focaccia's fluffy texture is the addition of potato to the dough and allowing plenty of time for the bread to completely rise.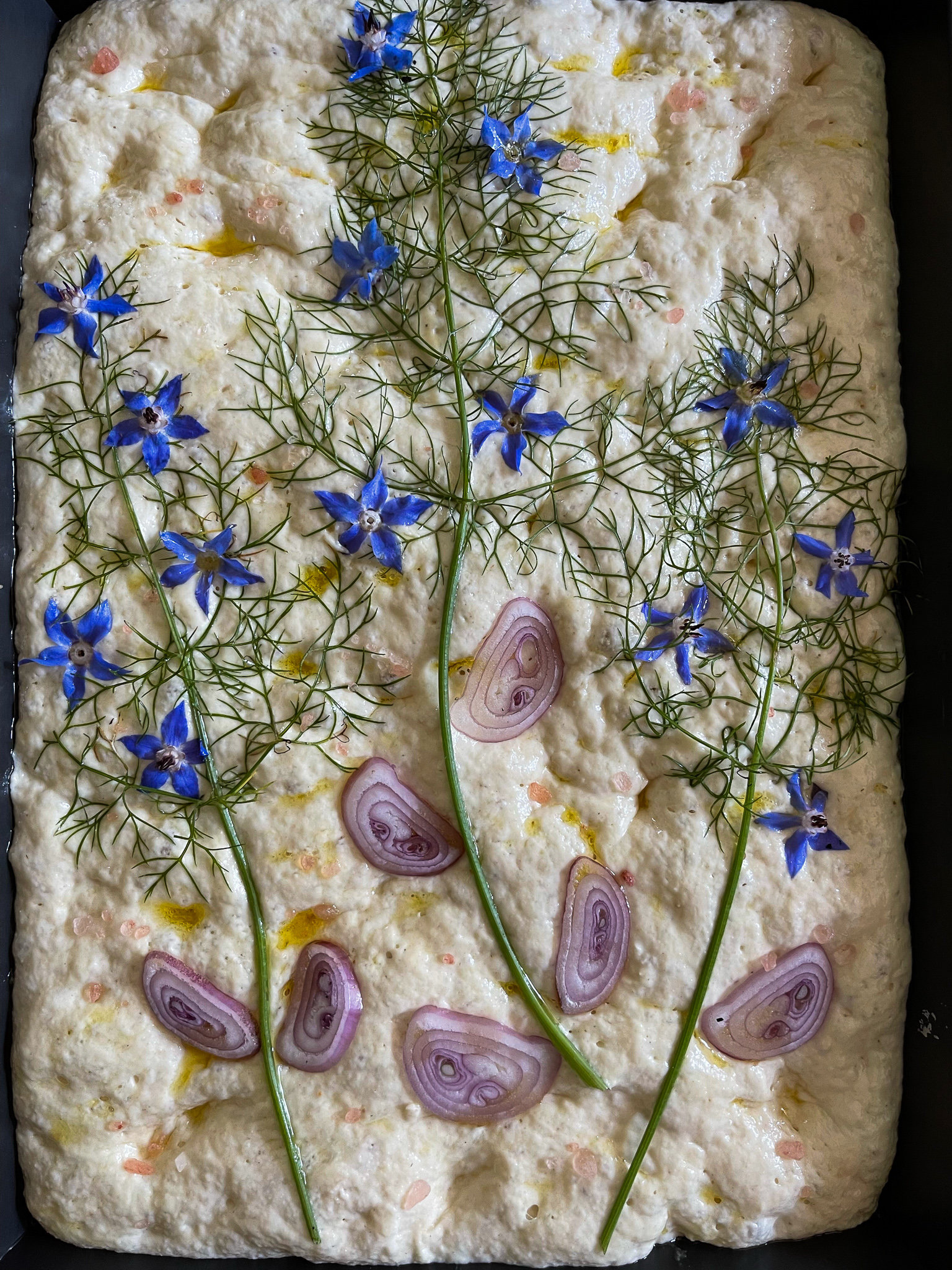 200 grams peeled and chopped Yukon Gold or red potato
600 grams cool water
400 grams bread flour
150 grams semolina flour
50 grams durum flour
10 grams yeast
1 teaspoon (4 grams) sugar
5 teaspoons (10 grams) coarse sea salt, divided
Polenta or cornmeal
Olive oil
1 deep 13×18 rimmed baking pan (higher the rim the better)
Bring the potato pieces and water to a boil together in a small covered saucepan. Cook until potato crumbles under a fork. Remove from heat and purée until completely smooth. Allow the purée to cool to 120°F (hot but not scalding).
Sift together flours, yeast, sugar and half the salt in a large bowl. Add the cooled potato purée and mix, preferably by hand until ingredients are completely incorporated. Cover the bowl and allow the dough to rise at room temperature until tripled in volume, about 2 to 3 hours.
Oil the baking pan and lightly sprinkle with cornmeal. Use a bench knife or silicone spatula to gently transfer the dough to the pan. Lightly oil your hands and evenly stretch the dough out across the entire pan. Drizzle additional oil on the dough's surface, sprinkle the remaining on the dough and create dimples across its surface using your fingers. Let dough rise again for an hour.
Thirty minutes into the second rise pre-heat your oven to 400°F with a rack in the middle. At this point you can press any addition toppings into the focaccia's surface. Once the dough has risen just over the edges of the pan place in the oven and bake for 30-45 minutes. You'll know when it is done when the surface turns a rich golden brown.
Remove the focaccia from the oven and transfer it from the pan to a wire rack. Let the focaccia cool for at least 10 minutes before slicing.