Light and refreshing, Lebanese tabbouleh is a wonderful addition to your summertime menu, especially with fresh parsley so readily available at the farmers' market. (Tabbouleh should be thought of as an herb salad punctuated with bulgur—cracked parboiled wheat groats—not the other way around.) We add garbanzo beans, cucumber, and tomato to our recipe, but feel free to experiment with whatever is fresh and flavorful in your garden. We've even made a tasty tabbouleh using parsley, mint, and cilantro.
We recommend making tabbouleh in the morning, so the flavors have plenty of opportunity to combine.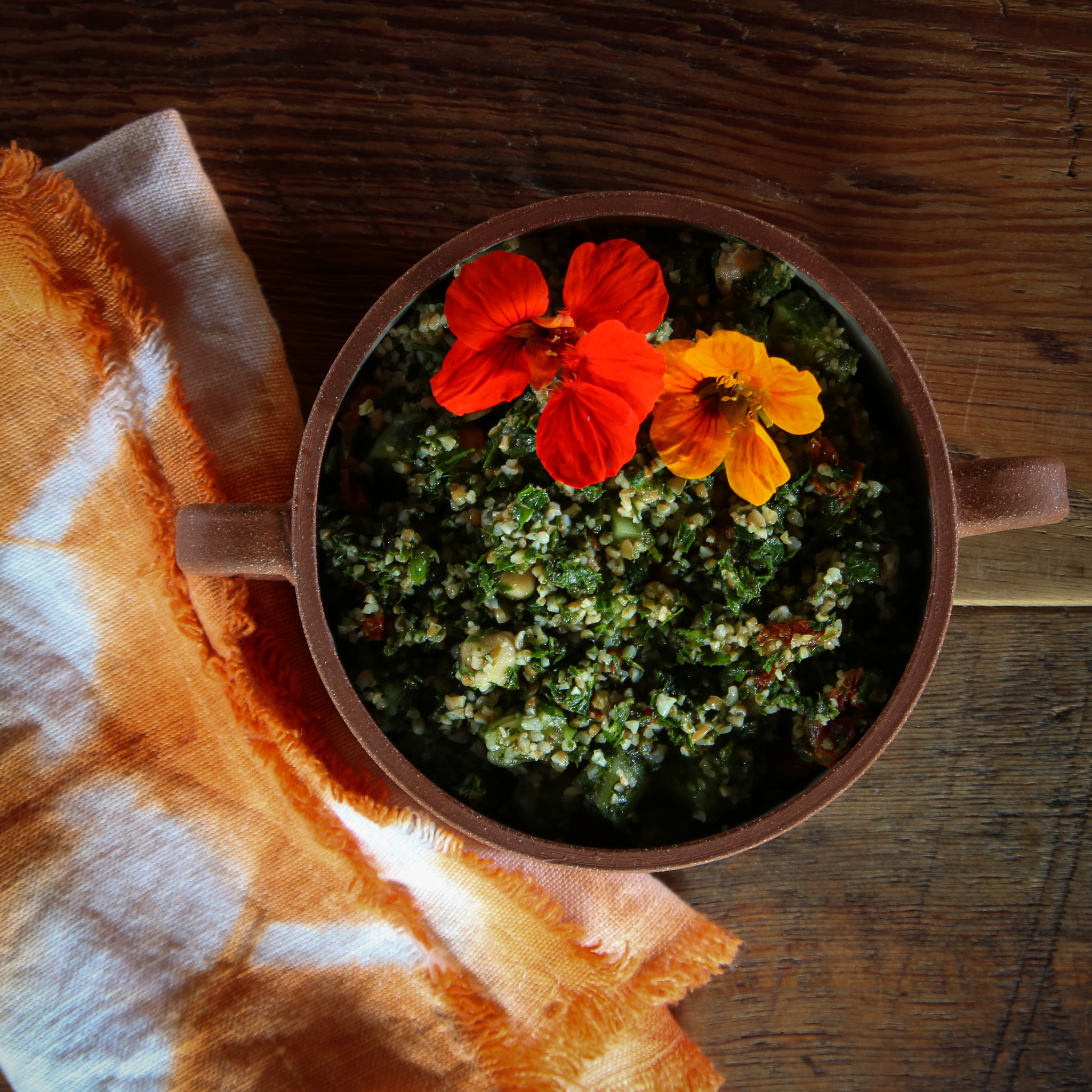 1 cup bulgur wheat
5 cups boiling water
Juice from 2 lemons (1/4 cup)
5 teaspoons salt
4 cups packed parsley leaves (4 bunches)
1 cup packed mint leaves (1 bunch)
1 cup chopped scallions
2 cucumbers, cubed (2 cups)
1 cup prepared garbanzo beans
½ cup sun-dried tomatoes or sliced cherry tomatoes
1 piece preserved lemon, peel only, cut into ribbons (optional)
Combine bulgur, boiling water, lemon juice, and salt in a bowl. Cover and let stand for an hour.
Finely chop the parsley, mint, and scallions. We highly recommend using a food processor.
Once the bulgur has cooled, fold in the parsley mixture, along with the cucumbers, garbanzo beans, and tomatoes.
Season with salt and black pepper.
For best flavor, allow the mixture to stand for a few hours, if possible. Serve at room temperature.