Our Sichuan Chili Oil is inspired by countless excursions to Chinese restaurants and dim-sum halls where every table features a jar of fragrant oil atop on an unctuous sediment of crushed red pepper flakes and Sichuan peppercorns. To this we add salty Chinese fermented black beans, tangerine peel, and a number of spices associated with the cuisine of Northeast China, like cumin and fennel. We use the oil in stir fries and to dressed cooked vegetables and the pungent solids to season everything from dumplings to eggs. One note of caution: it's addictive!
Most of the ingredients are relatively easy to find but we found The Mala Market one of the best places to find gourmet-quality Sichuan ingredients like Sichuan peppercorns, cassia bark, and black cardamom. Feel free to vary the proportions and personalize the flavor as you use it; chili oil lends itself well to experimentation. The recipe yield is approximately 2 cups, perfect for storing in a pint canning jar.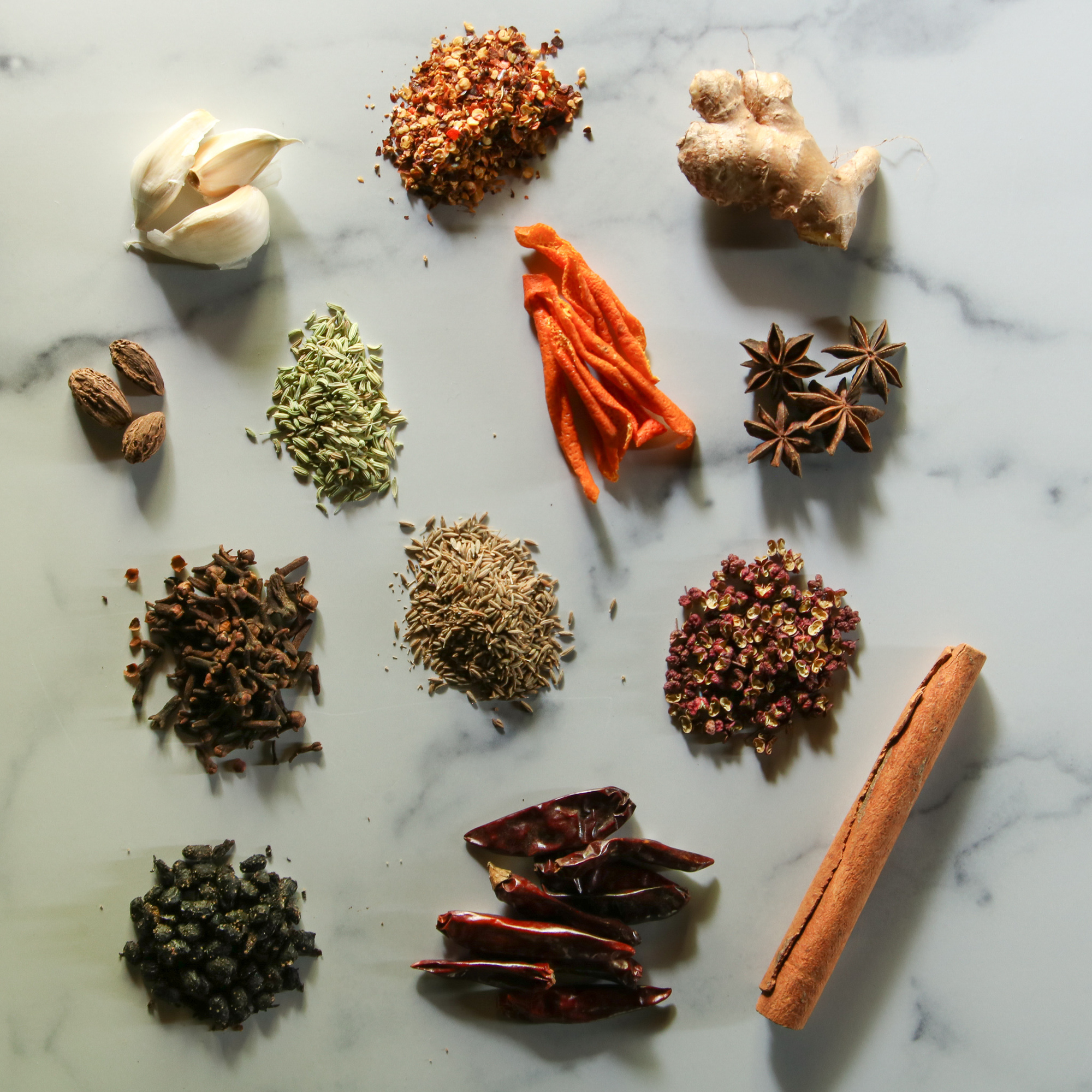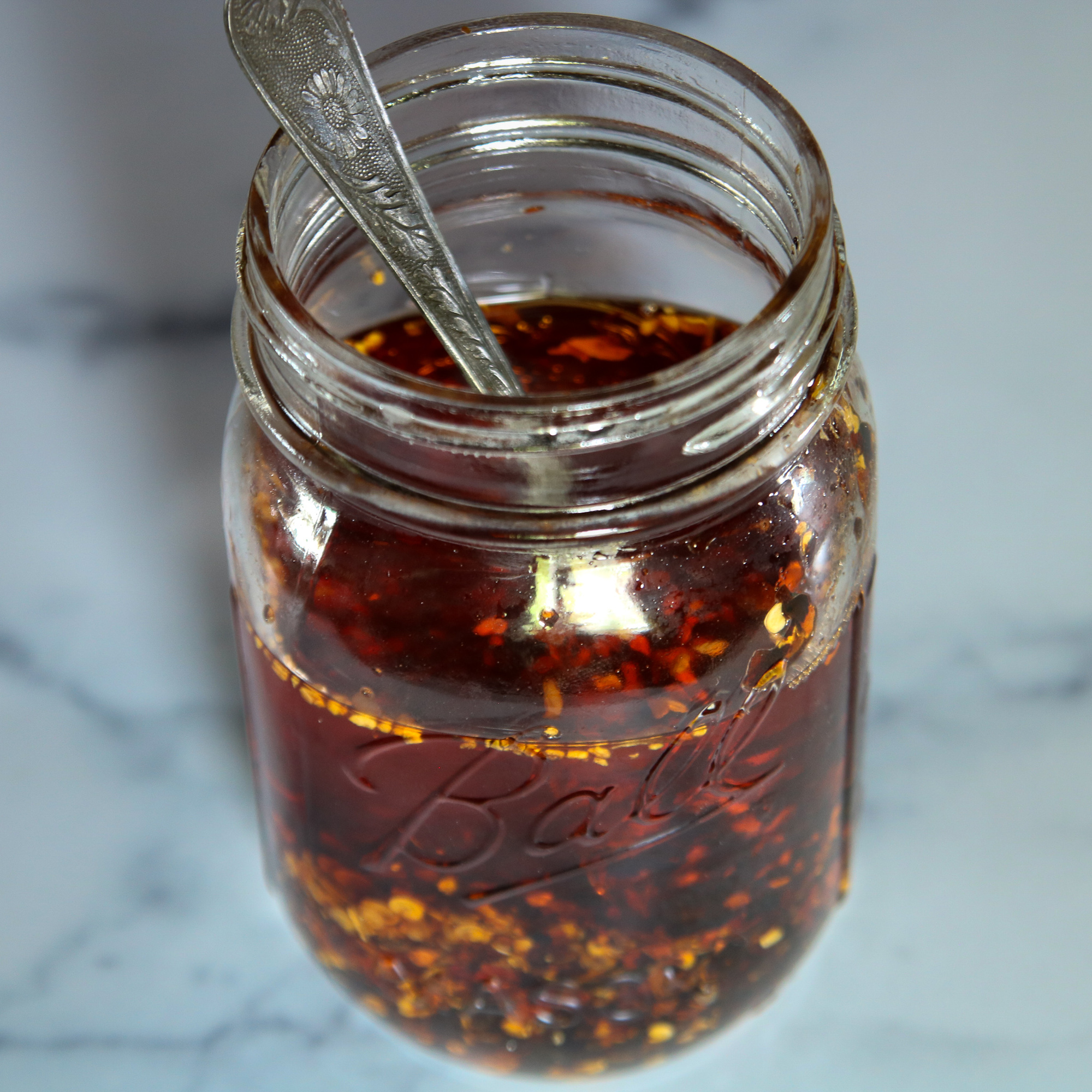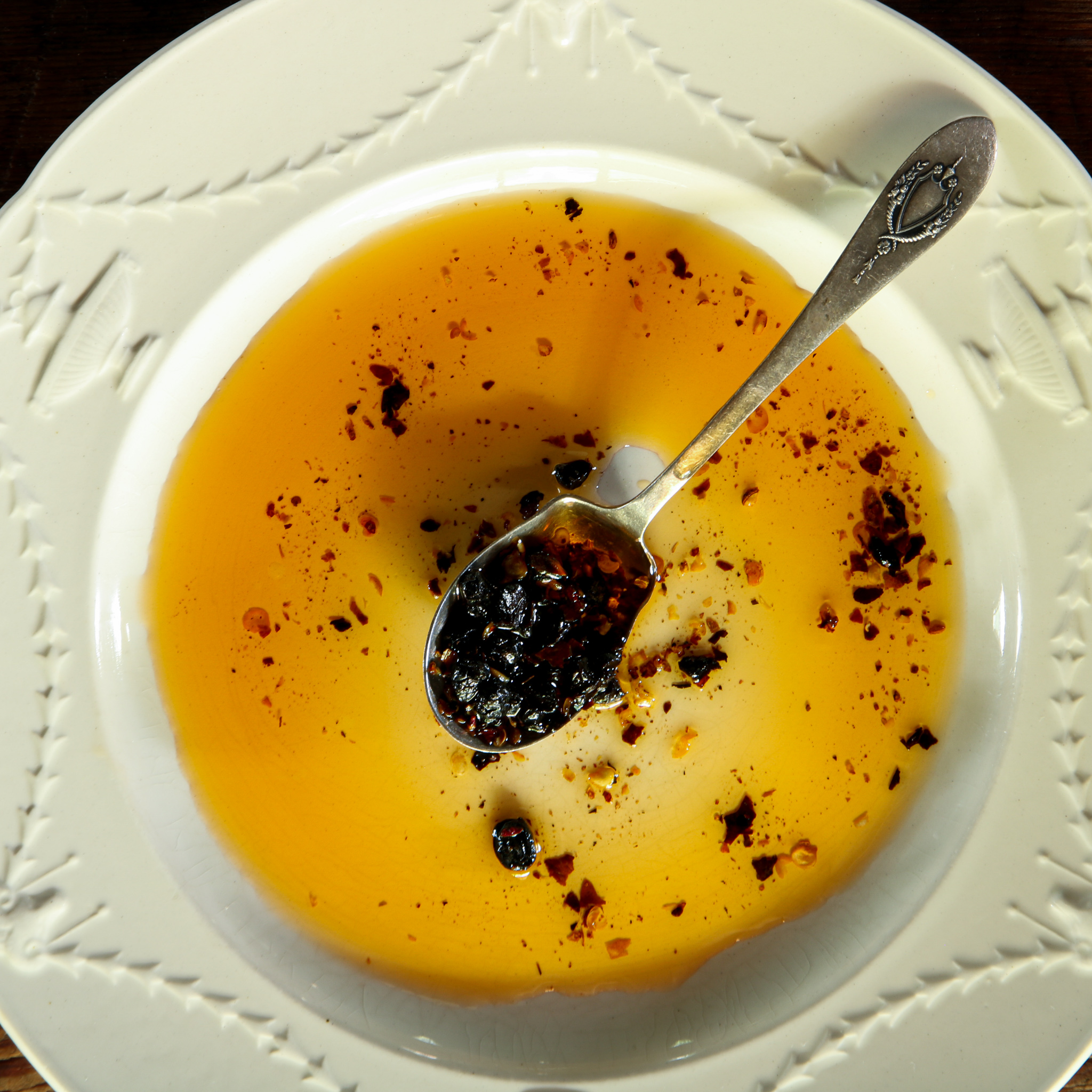 Ingredients for Seasoning the Oil
2 cups grapeseed or peanut oil
2-inch length fresh ginger, thinly sliced
4 cloves of garlic, thinly sliced
¼ cup Sichuan peppercorns
1 ½ tablespoons cloves
2 teaspoons cumin seeds
1 teaspoon fennel seeds
1 large piece of cassia bark (5-6 inches)
4 whole star anise pods
3 black cardamom pods
6 pieces dried tangerine (approximately 5 grams)
10-20 dried whole dried red chilies
Ingredients for Finishing the Oil
1/3 cup dried red chili flakes
1/3 cup Chinese fermented black beans, roughly chopped
2 tablespoons Sichuan peppercorns, toasted and slightly crushed
2 tablespoons toasted sesame oil
Prepare your jar. Have a sterilized pint (i.e., 2-cup) glass jar and lid ready to store the finished chili oil.
Flavor the oil. Combine the seasoning ingredients in a heavy-bottomed saucepan. Slowly raise the heat until the oil starts to bubble. Lower and sustain a very gentle simmer for 20-25 minutes, ensuring the oil doesn't boil too vigorously. Remove from heat and let stand 5 minutes.
Strain the oil. We pour the entire contents of the still hot saucepan into a chinois placed over a large spouted measuring cup to capture the seasoned oil. You can also use cheese cloth or even a French press.
Finishing the oil. Place the red chili flakes, black beans, additional Sichuan peppercorns, and sesame oil in your sterilized jar. Pour the still-warm strained oil into the jar. Seal the jar and let stand for about a week or at least a few days before using.