Although technically a vegetable, rhubarb is some of the first produce primed for pastries and pies we harvest here in Upstate NY. I myself have always been a bit intimidated by rhubarb due to its tart taste and fibrous texture. Surprisingly, it's really easy to boil down to a jam (like, really easy!); it's also probably the quickest jam to make as it breaks down within a few minutes with a bit of water and sugar. Rhubarb's tartness is easily balanced with a touch of sugar.
I usually make this tart and custard recipe during berry season but with rhubarb coming to an end, we look for ways to utilize it in something other than a more traditional pie or jam. Notably, this tart is great for the warm summer season because the shortbread-like crust is the only thing you bake. You can easily make the tart in advance and chill in the fridge until it's time for dessert.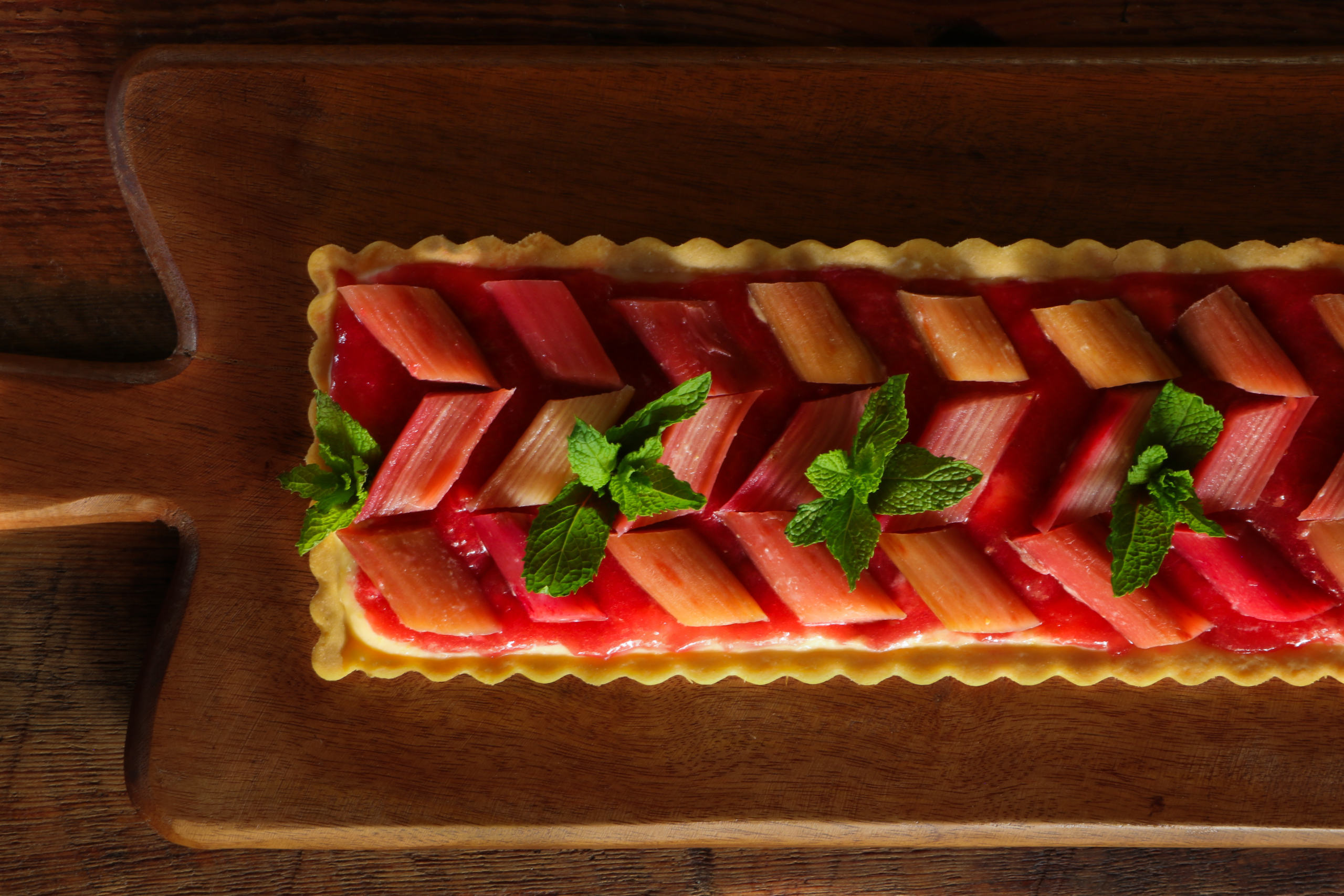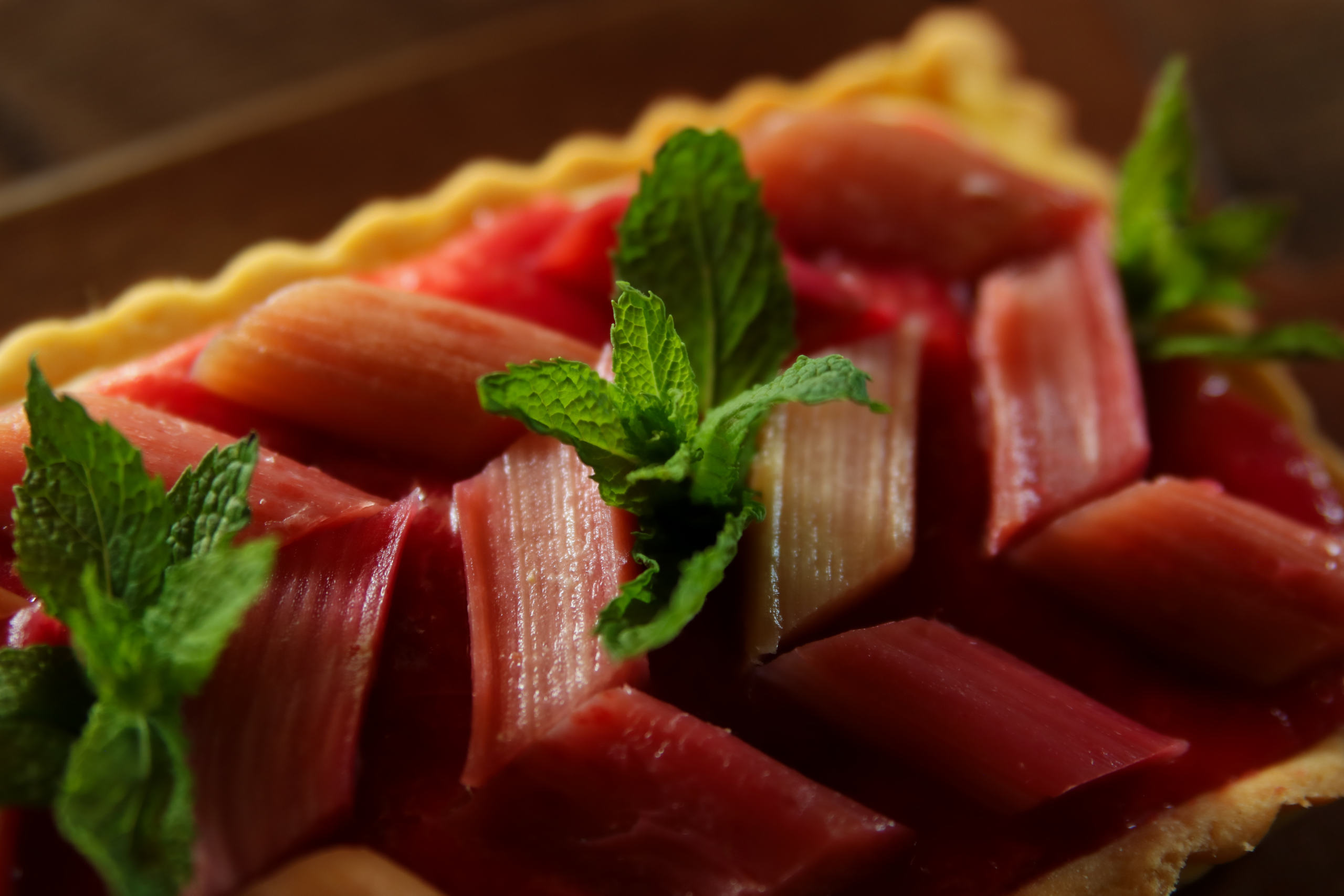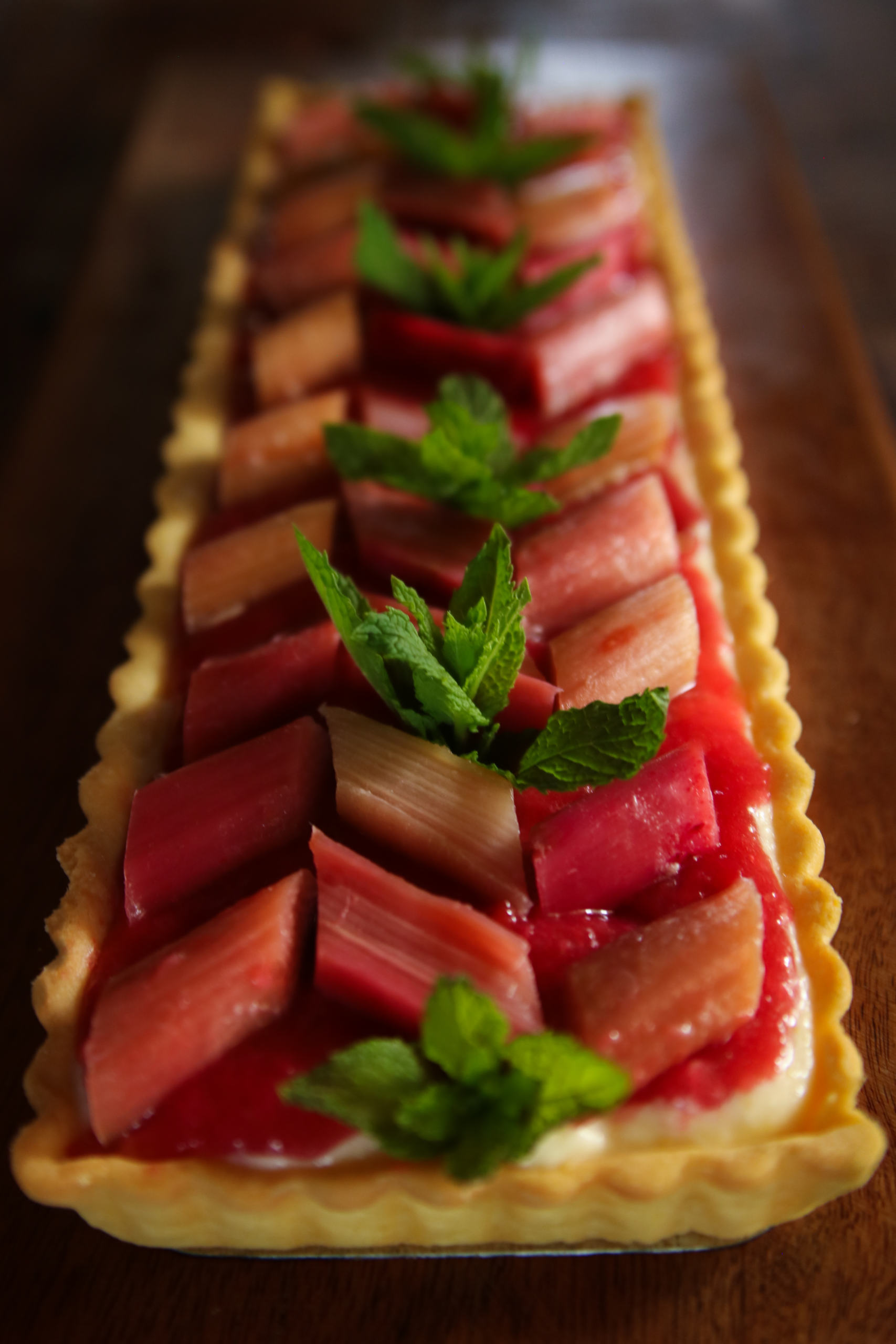 Preheat oven to 375°. In a stand mixer using the paddle attachment, mix together the sugar with the egg yolks, next add unsalted butter (cubed at room temperature), lemon zest, vanilla extract, and salt until combined.

On medium speed, slowly fold in the flour until the dough is formed and flour is mixed together. Remove dough from stand mixer and shape into a ball with your hands.

Wrap the ball of dough with plastic wrap and refrigerate for at least 30 minutes or up to one day.

Roll the pastry on a lightly floured counter into a circle, take the pastry and lay it inside a 9″ tart pan. In the image, we used a 13" x 4.5" tart pan which will leave you enough ingredients to make two tarts.

Use a fork to poke holes at the bottom of the pan, and place parchment with some beans or pie weights on top.

Bake at for about 15 minutes or until the crust is a light golden brown color.

Let pie crust cool down completely.
In a bowl mix sugar, flour and the egg yolks until smooth.

In a sauce pan bring the milk to a boil.

Whisk in the egg yolk mixture into the sauce pan and continue to whisk while bringing it to a boil.

Simmer for 2 minutes stirring until it becomes smooth and thick.

Stir in the almond extract.

Pour into a bowl and press plastic or wax paper to the surface. Let cool completely in refrigerator before you fold in the whipped cream.
Add heavy whipping cream into a bowl of a stand mixer using the whisk attachment and begin to whip the cream on high until peaks begin to form.

Add powdered sugar and continue whipping until cream is near firm.
Combine the Custard with Whipped Cream
Once your custard is cooled off in the refrigerator you can take the whipped cream and slowly add it to the custard. Put back in the refrigerator until you finish making the rhubarb filling.
Poach rhubarb slices. Take 4 rhubarb stalks and cut on a bias 1" pieces (try to use stalks that are in similar width).

In a saucepan add 1 cup of water and 1 cup of sugar and bring to a boil.

Add rhubarb slices to boiling water and summer for about 5-8 minutes or until rhubarb slices are tender enough to eat.

Using a slotted spoon, remove the rhubarb slices and let cool completely in a bowl.

Slice up the remainder rhubarb stalks and add to a sauce pan along with 1/4 cup of water and 1/4 cup of powdered sugar. Heat on high until the rhubarb breaks down to a paste (add more sugar depending how sweet you want your jam). Chill in refrigerator until completely cool.
Once your pie crust is cool, spoon in the filling and smooth right below the top of the crust. With a brush, add a layer of rhubarb jam. Take the rhubarb slices and arrange in a chevron pattern on top of the tart. Fill any holes or gaps with more rhubarb jam. Garnish with fresh mint leaves.