A SIMPLE AND DELICIOUS PIZZA DOUGH RECIPE THAT YOU NEED IN YOUR LIFE
Homemade pizza, including the dough, has been a staple in our house for many years. The key to a good pizza after all is the crust—perfectly crisp with no soggy bottom—and you get this by doing a blind bake with your crust (highly recommended).
We're not going to get into sauces and toppings because we think you can totally handle that. And with a pandemic currently happening, use what you got at home (read: don't run to the grocery store for unnecessary items!). The one thing we do recommend for a delicious pizza is a good local mozzarella and Shawn always loves to garnish his pie with fresh greens like arugula or sprouts.
The following recipe is for two pizzas. We measure ingredients by weight for accuracy and consistency but have provided approximate volume measurements if you do not have a kitchen scale. You can bake two pizzas or freeze one half of the uncooked dough in a zip-lock bag drizzled with olive oil. When ready to bake your frozen half, take the dough out of the freezer in the morning and place in the refrigerator, let rest on the counter a few hours before dinner, and you'll be set for a real artisanal pizza at home. See our simple pizza dough recipe below!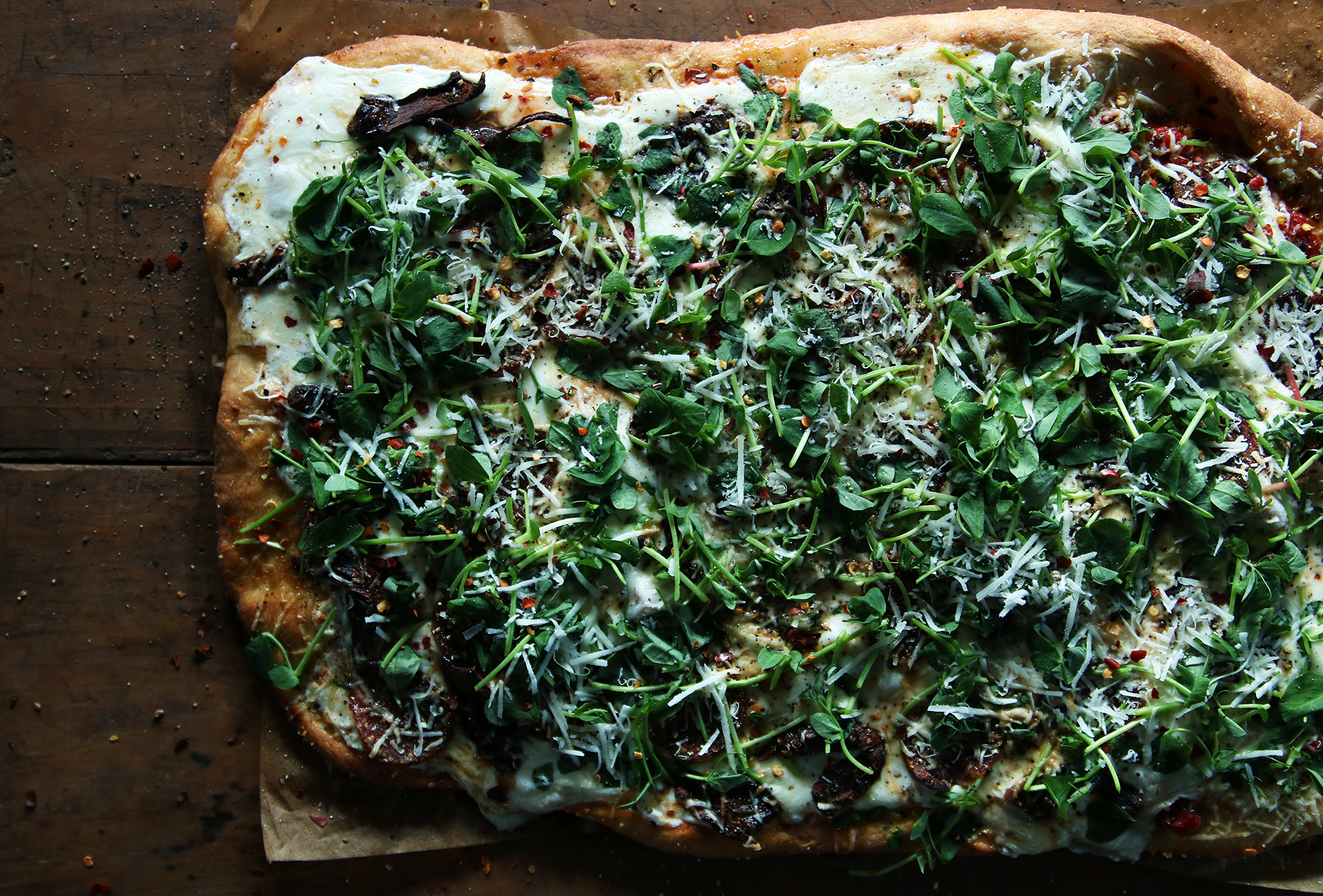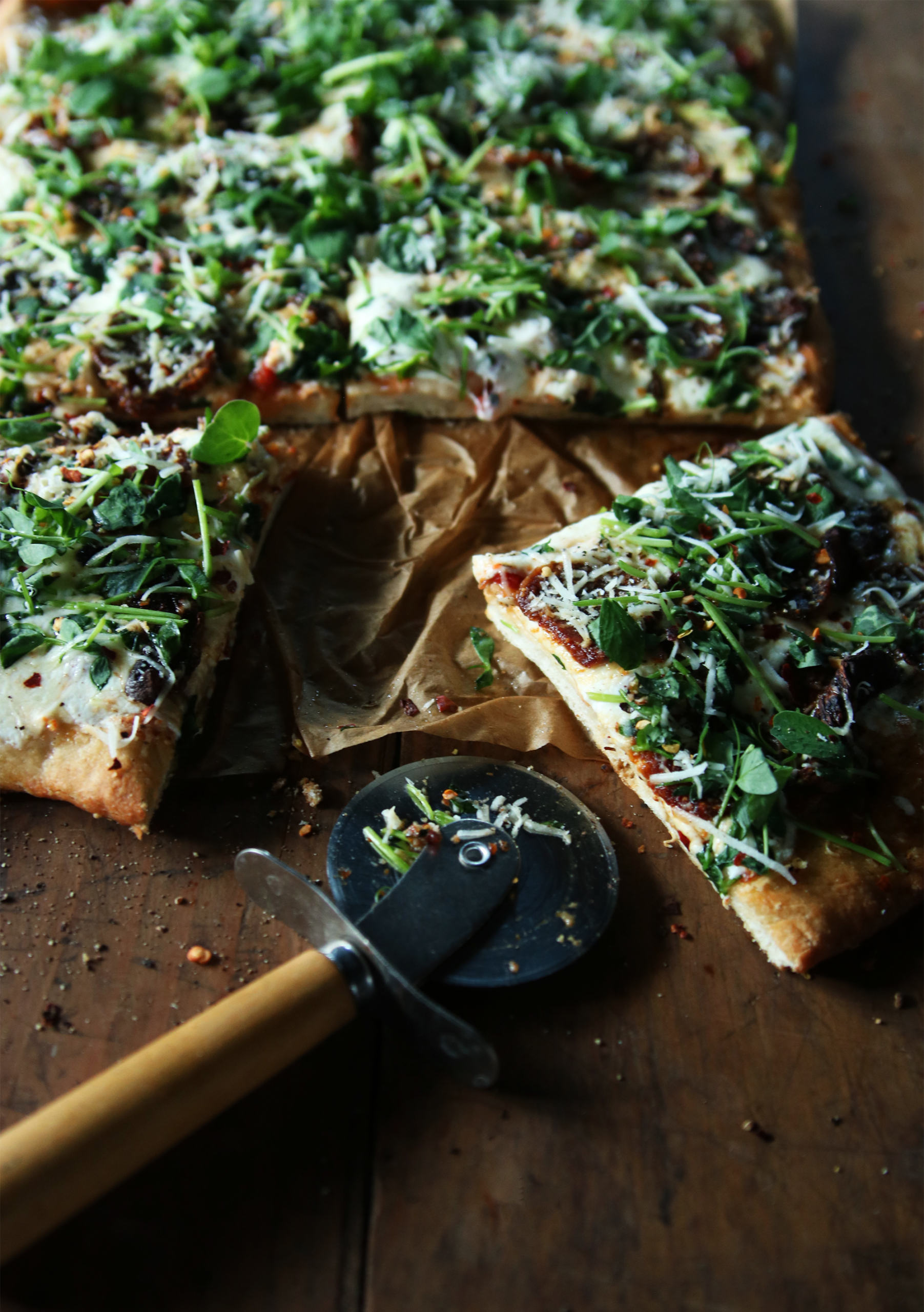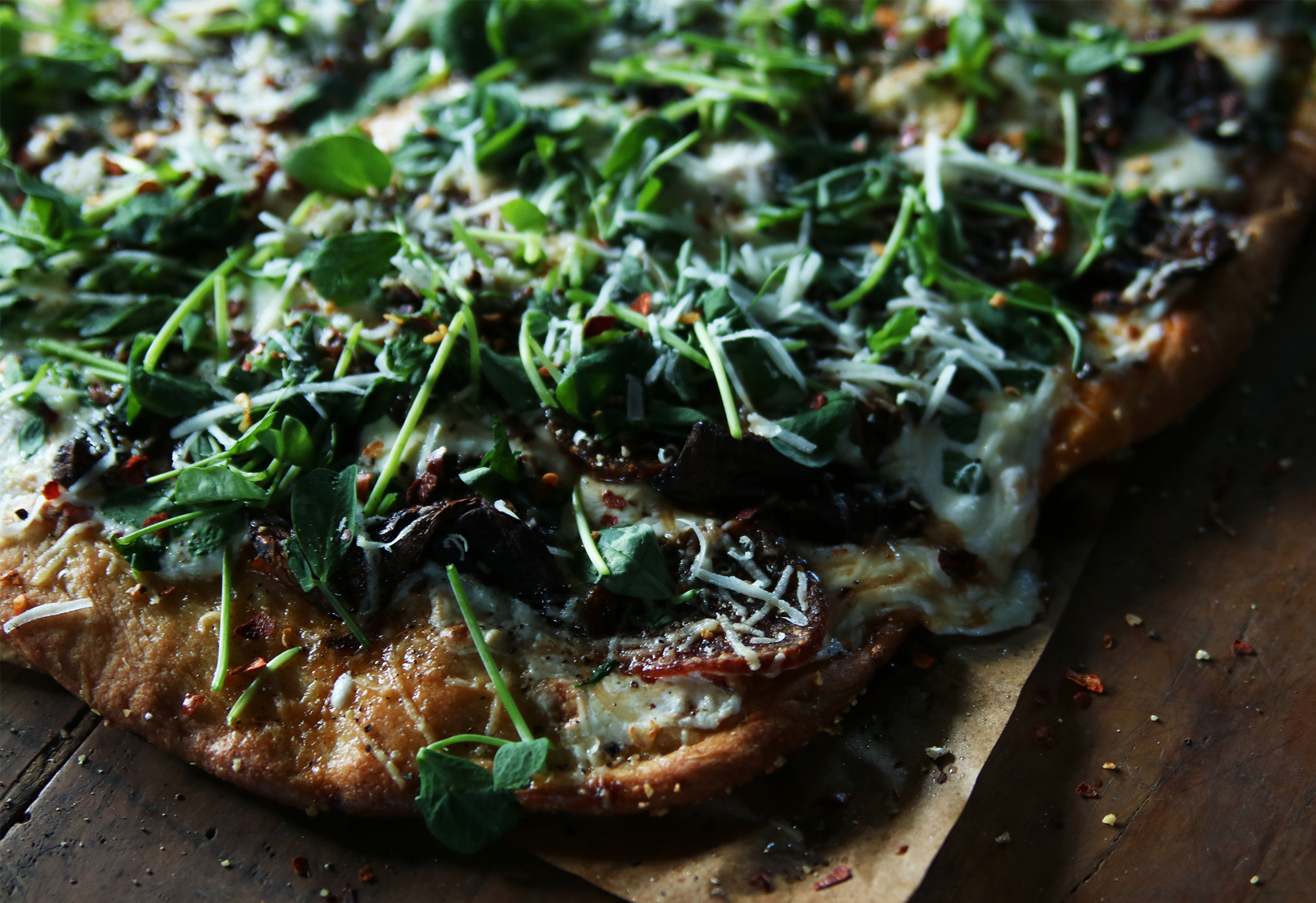 In a medium bowl, stir together the flour, yeast, salt and sugar. Add the water and using a wooden spoon or your hand, mix until blended, at least 30 seconds. Cover the bowl and let sit at room temperature until the dough has more than doubled in volume, about 2 hours.

Preheat the oven to 500°. Line a (roughly) 13x18-inch baking sheet with parchment paper and sprinkle with cornmeal (If you are baking the two pizzas together, you will use 2 baking sheets). Divide the dough into two portions. Get your hands all greasy and spread the dough across the pan. Don't worry too much about a perfect shape; I usually aim for a rough rectangle. Once shaped, prick the dough with a fork a few dozen times to prevent large pockets of air forming when baked. Dust the dough with freshly ground black pepper. ONLY when the oven is at 500°, bake the crust until it just starts to turn a golden color and remove from oven – this prevents the crust from getting soggy. Ladle on a thin layer of sauce and add your toppings. Drizzle with olive oil. Put back into the oven and bake until cheese has browned.