MOMOS, A TIBETAN STYLE DUMPLING THAT ARE AS CUTE AS THE NAME SOUNDS!
I'm pretty sure every culture can lay claim to some form of dumpling (think Polish pierogis, Italian ravioli, or empanadas which are popular throughout Latin America). They also happen to be one of our favorite foods, especially when entertaining a crowd. We experienced momos, Tibetan dumplings, during our trip to India a few years back where they have become quite the food trend. Momos are one of the best known foods in Tibet and Nepal and similar to a Chinese dumpling, you can fill them with pretty much anything you have on hand. Traditionally, specific ways of folding the dumpling are used to indicate the filling. Take a look at this fun video to learn how to fold your momos.
Today we're making ramp and goat cheese filled momos. Ramps (i.e., wild onions) are popular in our neck of the woods in early spring and can only be foraged. They can easily be replaced with scallions or leeks for a similar taste.  You can also use blue cheese with onions, spinach, and garlic for an authentic Himalayan flavor. I was surprised to learn how easy it was to make the dough from scratch. Alternatively you can use ready-made dumpling wrappers, but we suggest trying this simple dough recipe. What I love about dumplings is that you can fill them with whatever you have on hand, just make sure the filling is well seasoned and not too wet. Around the holidays we even fill our dumplings with leftovers. Also, they freeze beautifully. We hope you enjoy this recipe and happy momo making!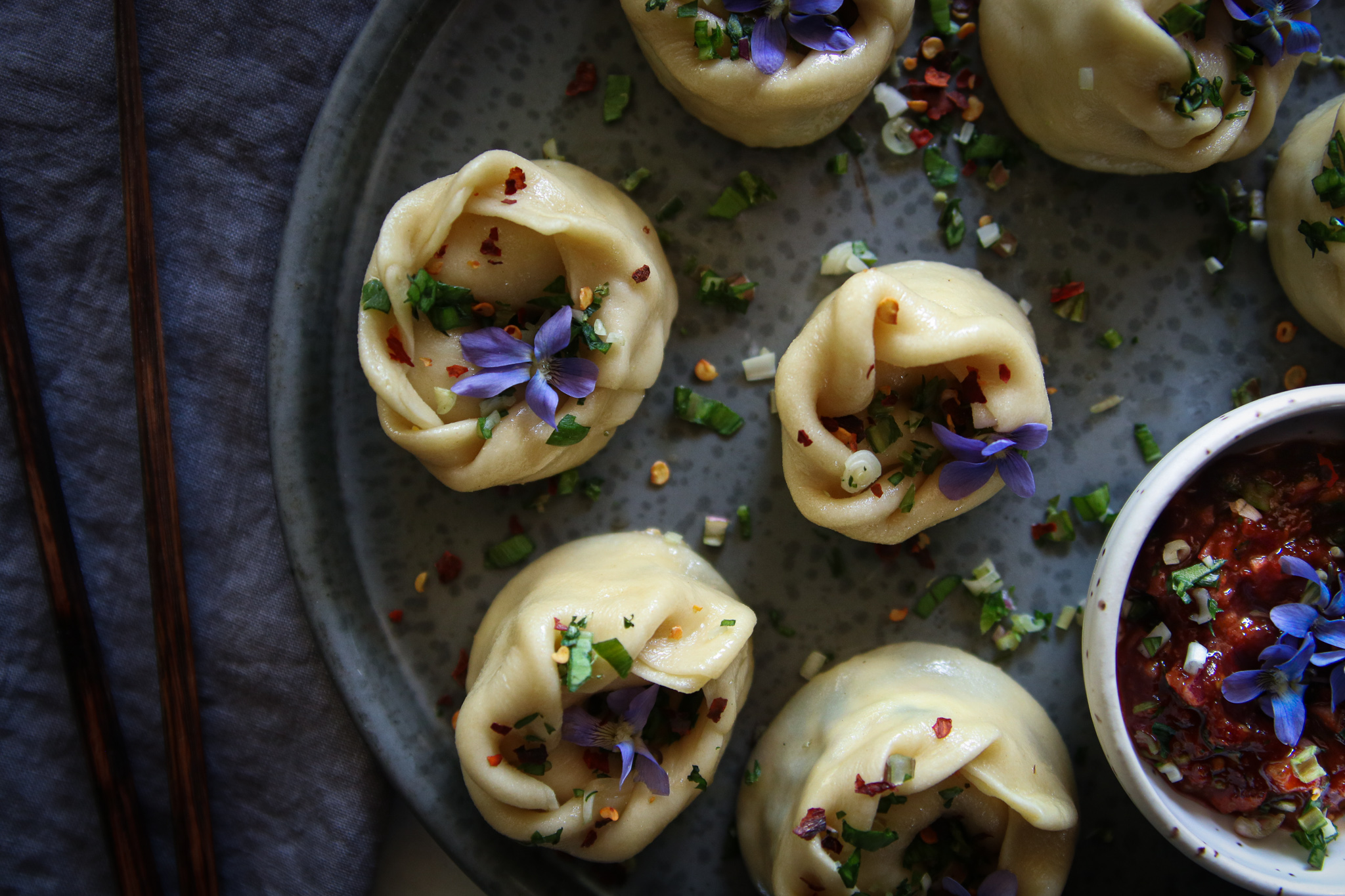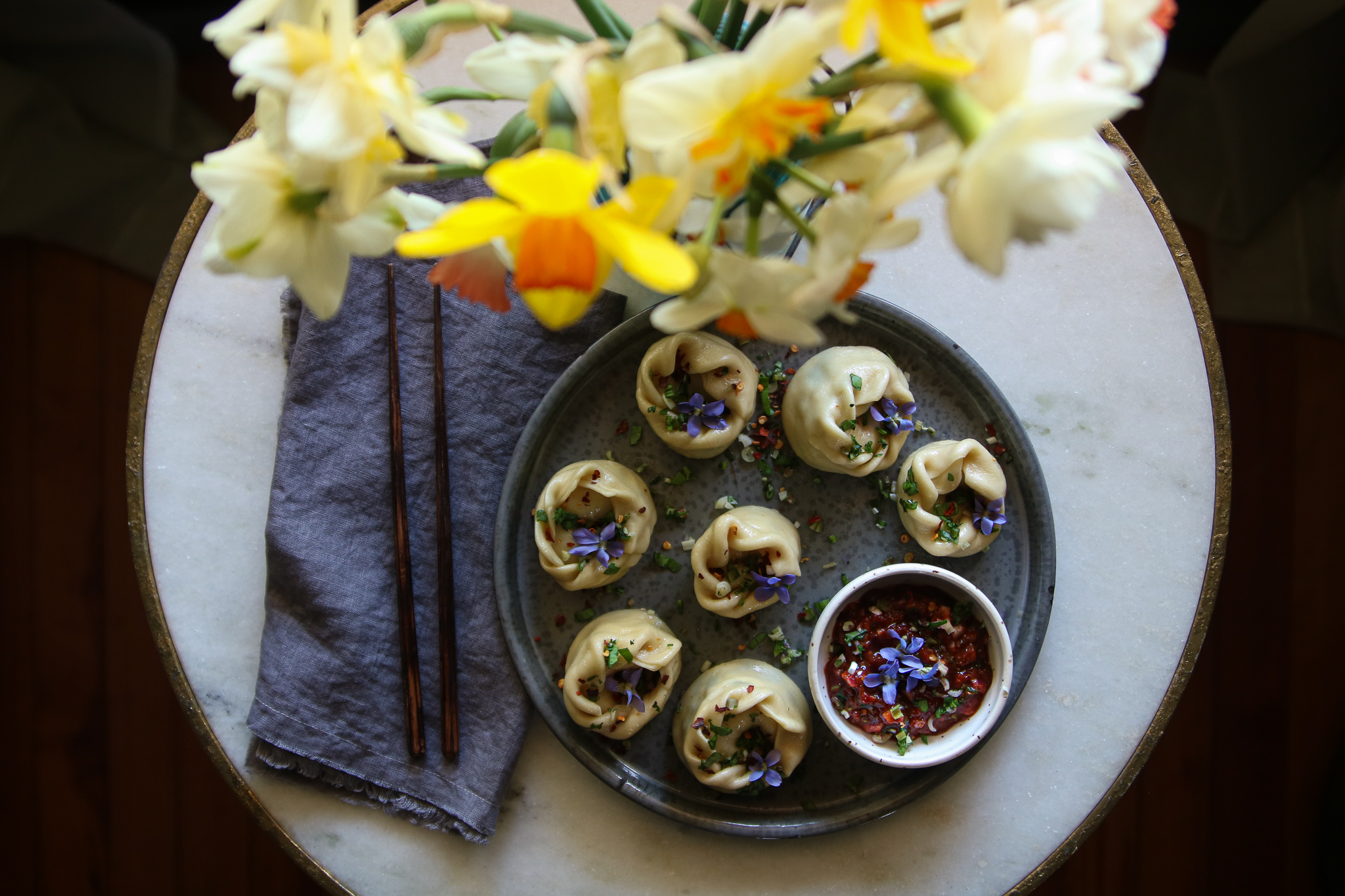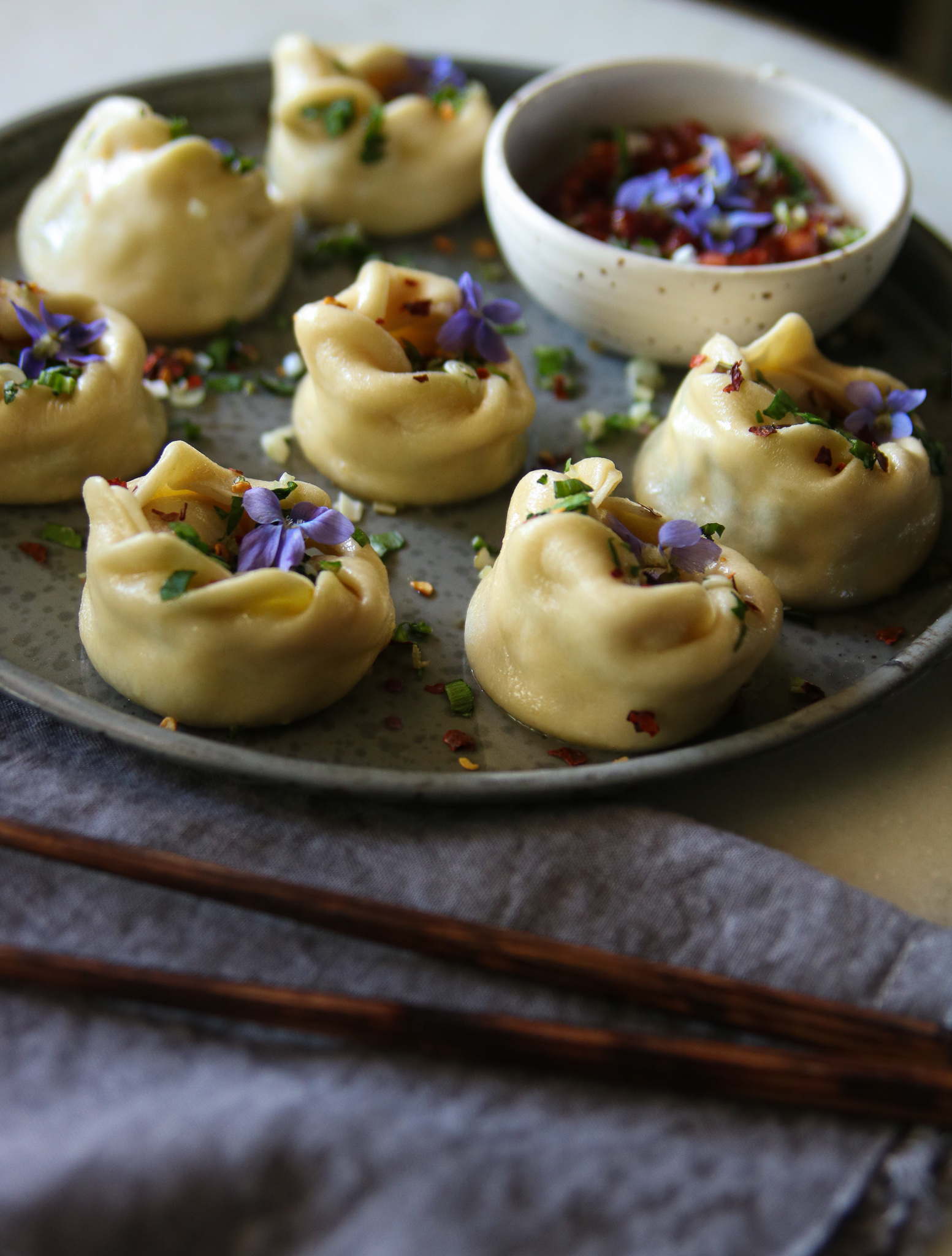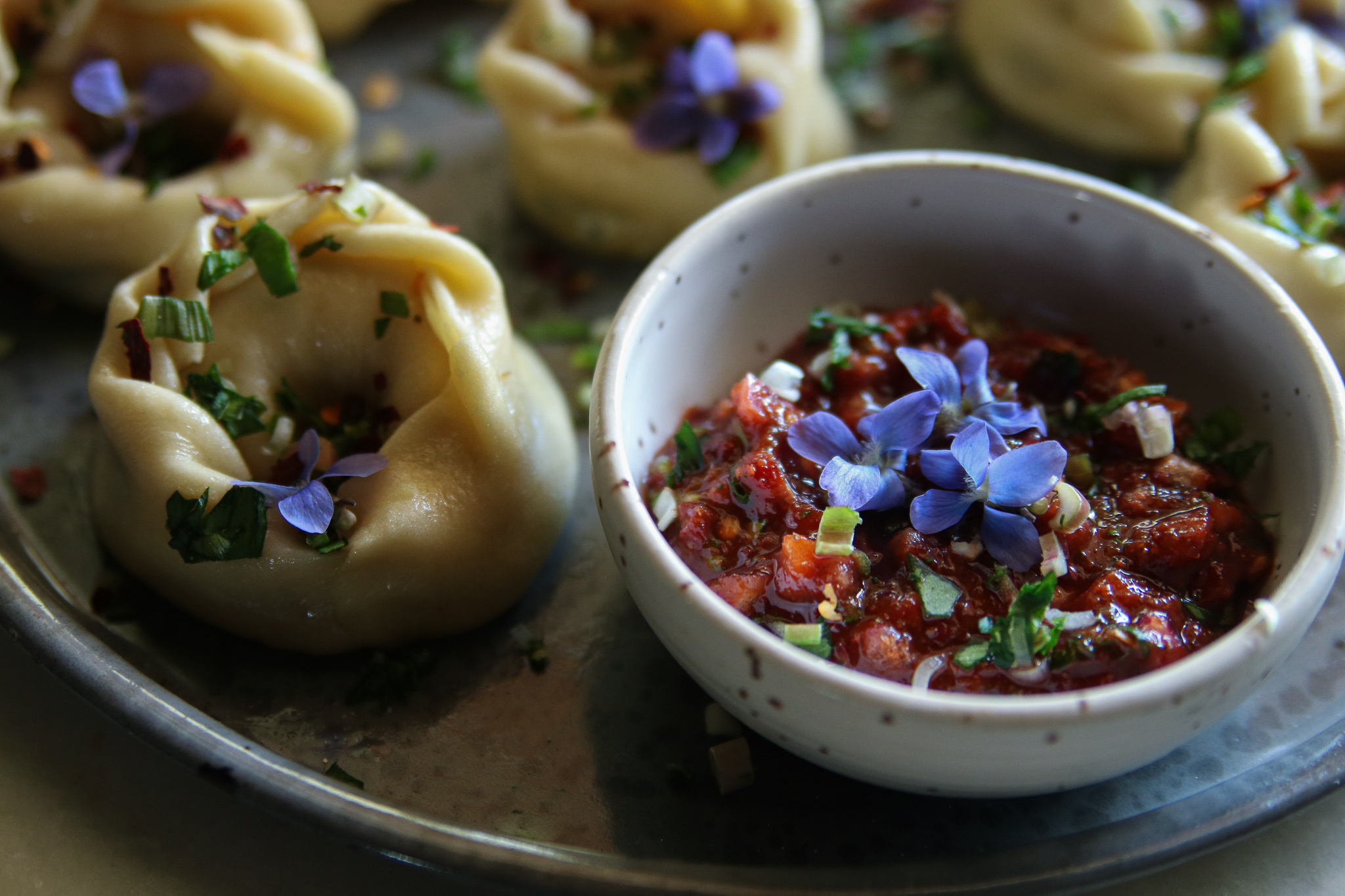 Ramp & Cheese Momo Filling
Combine the flour and salt in a large bowl and mix well. Add 1/2 cup of water to the bowl and mix well with your hands until combined. Add the rest of the water 1 tablespoon at a time, kneading in between each addition until the dough is smooth, firm, and elastic. While in bowl, keep the dough covered with a damp cloth or paper towel. Let the dough rest for half an hour.

While the dough is resting, make your filling. Heat the mustard oil in a skillet over medium-high heat until slightly smokey. Lower the heat to medium and add chopped ramps and ginger, keep 1 tablespoon of ramps aside for garnish. Sauté stirring continuous for about 2 minutes. Remove from heat and let cool down to room temperature. Stir in goat cheese until combined. Set aside until dough is ready to be filled.

To roll out the dough, pinch off pieces about 1 heaping tablespoon in size and shape like round balls. When you have the dough proportioned into balls, it's time to start rolling. Remember to keep the dough covered with a damp cloth as you work to prevent it from drying out.

Roll each ball out into 3-inch circles on a lightly-floured smooth surface.

To fill your momo, take about 1 tablespoon of cheese filling and add to the center of your round dough wrapper.

There are several ways to fold a momo and you can find a great video above to help you out. For the classic crescent momo: After adding your mom filling to the center of your dough wrapper, fold the dough in half and pinch to close. Use your thumb to pinch small folds on the round edge of your momo (the edge should look like roping). You can leave the crescent shape as is, or pinch the two ends together to form a circle.
In a non-stick skillet, brush about 1 tablespoon of oil on the pan over medium-high heat until slightly smokey. Add about 12 momos to the pan until bottoms are golden and crispy, about 3 minutes. Add 3/4 cup of water to the pan and cover skillet for about 5 minutes. Shake pan around periodically to prevent momos from sticking.

Garnish the momos with leftover chopped ramps and chili pepper flakes. We also garnished the momos with edible violets foraged in the yard.
To make the dipping sauce
In a small sauce bowl add the chili paste, we used a chunky chili sauce by Huy Fong Foods. You can also use sriracha but add 1 minced garlic clove. Add chopped onions and mix to combine.