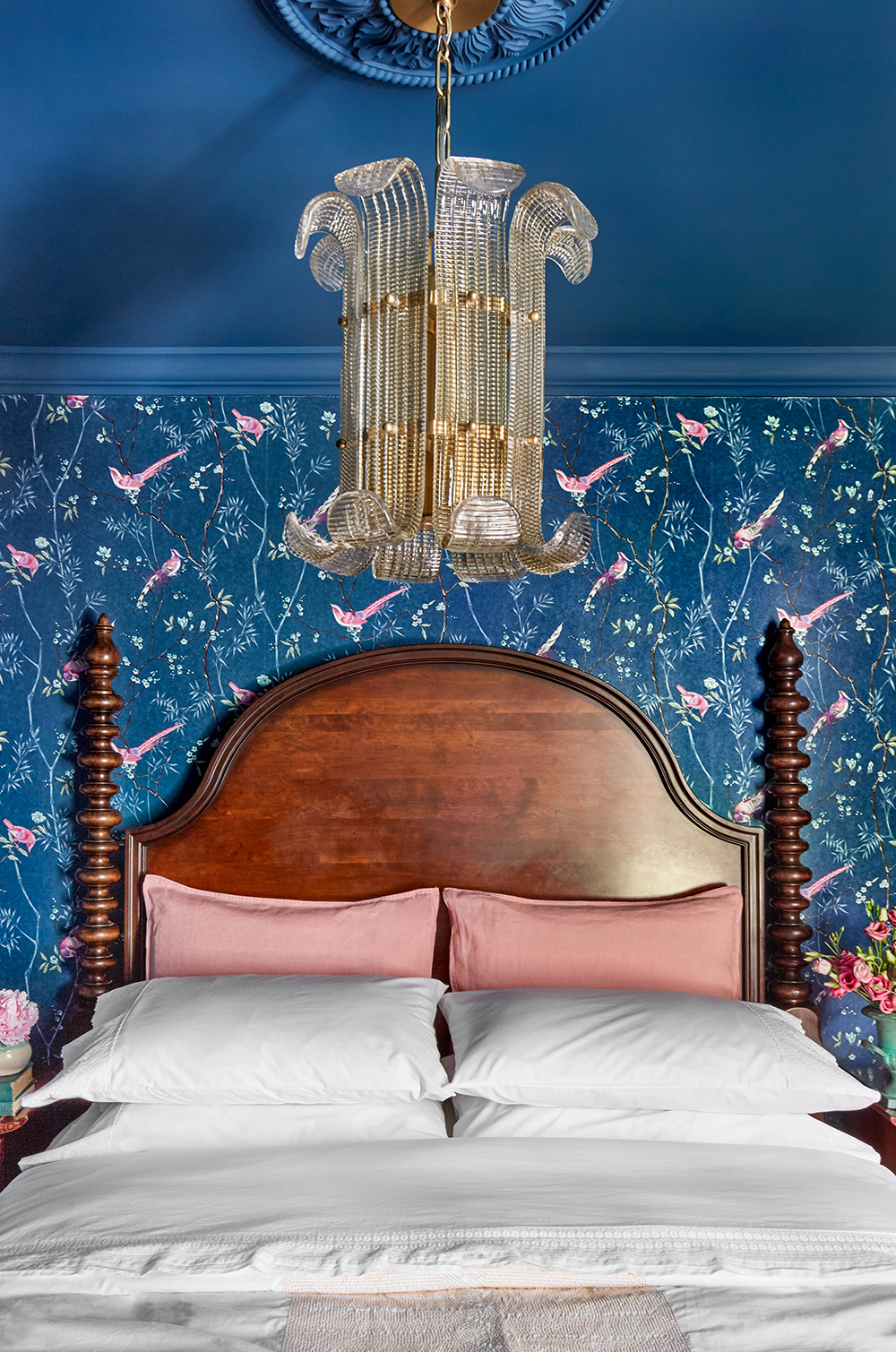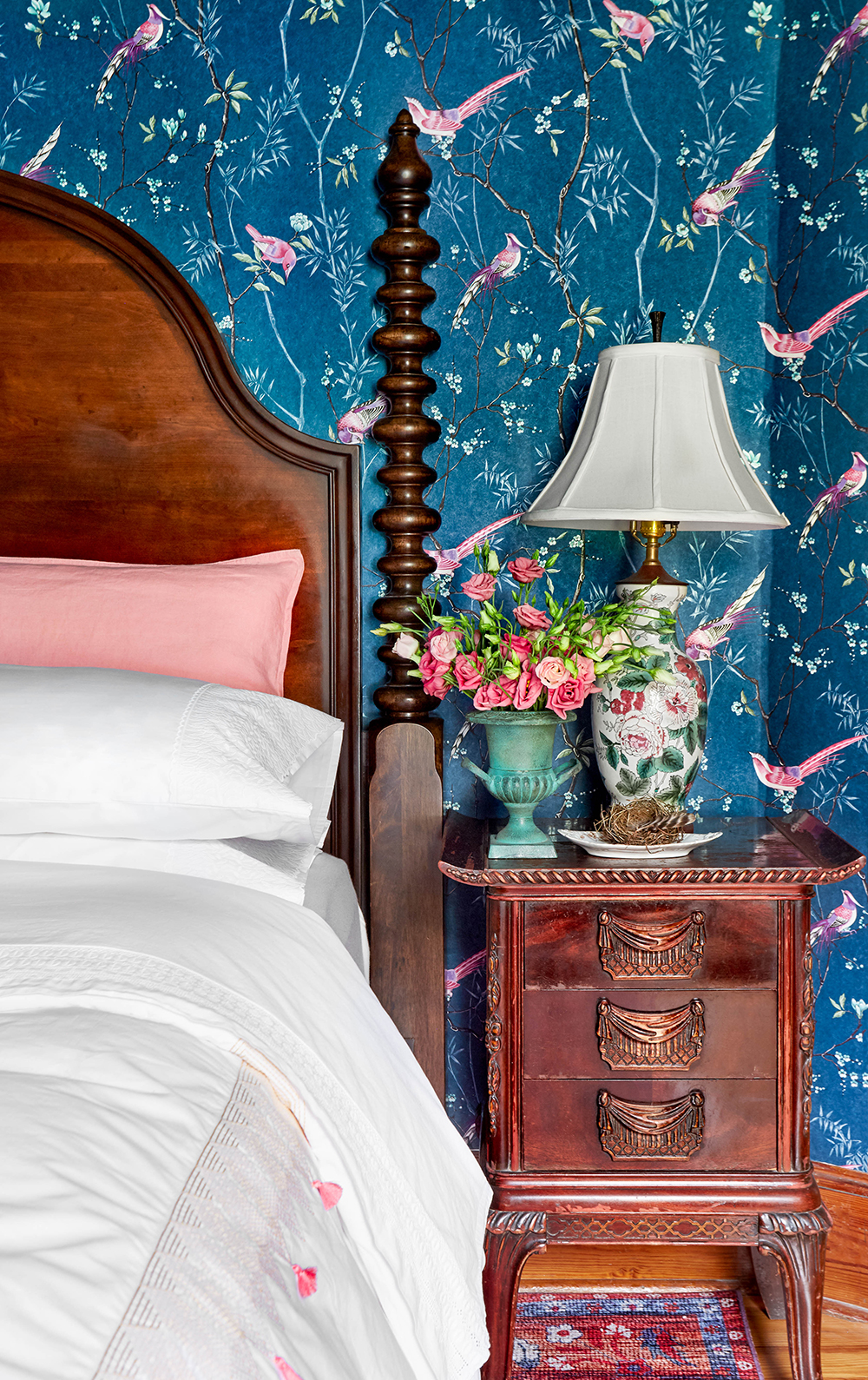 We did it! Welcome to our One Room Challenge bedroom makeover, week number six – the reveal. It's been a long, stressful few weeks but in the end, totally worth it. Finding out we had to replace the bedroom ceiling in Week One did put us behind, on top of hectic work schedules and other Farmhouse Project commitments, but we were determined to do this right, see it through, and knock your socks off…or at least ours!
The bedroom makeover's theme started with the fabulous chinoiserie wallpaper from Graham & Brown. We knew we wanted to incorporate this 18th century Chinese motif into our bedroom and fell in love with their Tori Teal pattern's interpretation that was hand designed in their studio in England. The design is traditional with an updated moody color palette that worked seamlessly with our historic farmhouse and overall style esthetic. We incorporated a versatile mix of new and antique furnishings and accents with a beautiful and minimal design approach.
Similar to all the other rooms we've restored at the farmhouse, we aimed to do most everything ourselves to save money but also for the amazing satisfaction of DIY. Because of timing, we did have our handyman Julio (who's the sweetest) help us with the ceiling and crown molding. Other than that, we wallpapered, painted, switched out electrical, and tackled all those other little details you forget about until the last minute. Luckily, this is our smallest bedroom of the five in our house, but we think the coziest.
It's always amazing to see a room come together so quickly. Some of our best statement pieces for this room were found just a few days ago and the day before our photoshoot. But isn't that always the case!? We never want to leave this dreamy bedroom and hope you enjoyed following us along for the past few weeks on our ORC journey. Let us know what you think of the transformation and we hope you're inspired to makeover a room of your own! We'll be sharing more stories about our bedroom over the next few weeks on social media, where we'll talk about our inspiration and wonderful sponsors who helped make this bedroom possible, so please stay tuned and don't forget to keep scrolling down for our source list!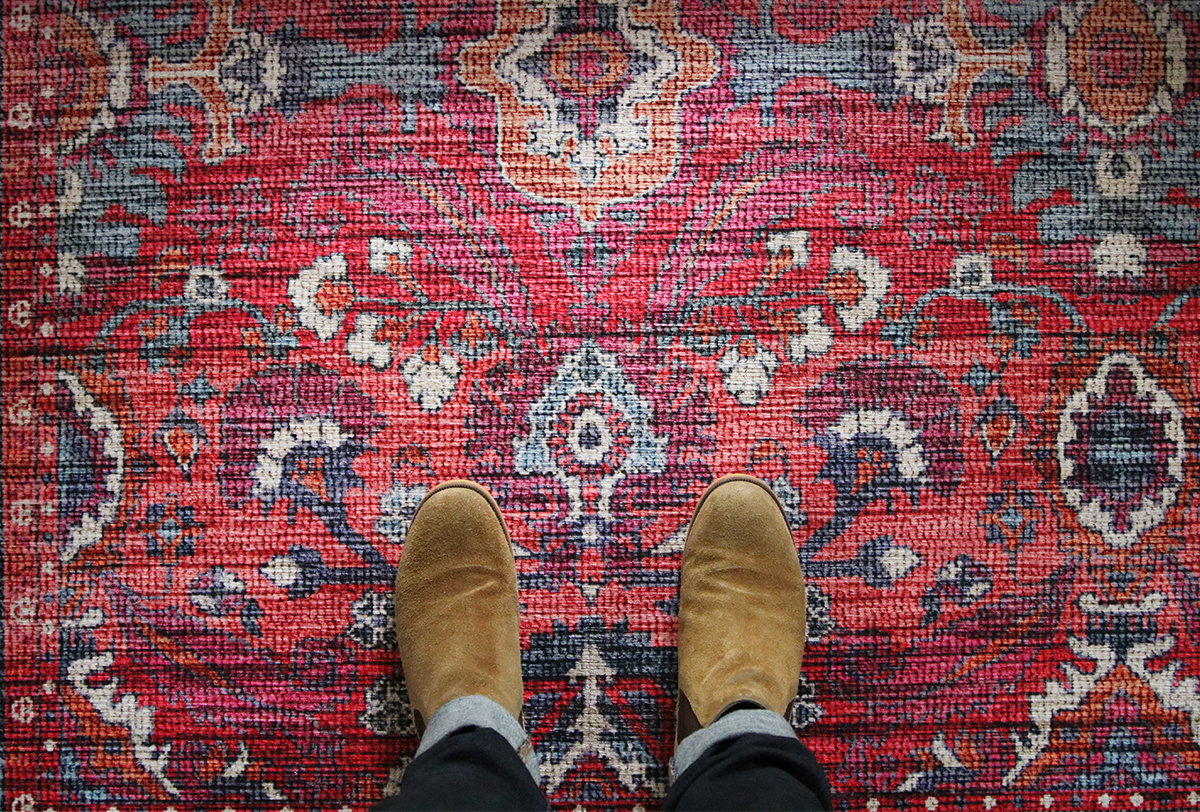 *Photography by: Rikki Snyder
SOURCE LIST
Bed
Vintage – Found on Facebook Market Place
Finding a vintage style bed in queen size is always a struggle especially if you have a tight budget. We found this poster bed on FB Market Place last week for a steal and it works perfectly in the room.
Bedside Tables
Vintage – Found on House of Brinson's online shop
Our friends Susan and Will of House of Brinson are fellow old house restorers with amazing style! They recently started an online shop of beautiful vintage furnishings and we had them set these beauties aside for us. The Asian influenced design pairs so well with our Chinoiserie wallpaper.
Dresser
Vintage – Found at a local antique shop
Accent Chairs
Vintage – I found these about 6 years ago at a local antique shop. They were a great price, but we didn't have a place for them at the time so they were stored in our barn until now.
Floor Mirror
This mirror has been sadly discontinued but holds a special place in my heart as I designed it while working for Ethan Allen. It was designed and hand-made to resemble an antique Venetian style mirror with distressed pieces and rusted screws.
Lighting
Chandelier – Hudson Valley Lighting | Sponsor
The Brasher Chandelier is a stunning piece of art. The glass is hand-poured into molds and then bent to form the distinctive panels.
Bedside Lamps – Vintage. Found at local antique shop
Wall Sconces – Vintage. Found at Newburgh Vintage Emporium
Drapery
Barn & Willow | Sponsor
Wallpaper
Graham & Brown | Sponsor
The Tori collection depicts an exquisite Chinoiserie bird trail delicately hand painted in our studio and worked into a fine silk texture. In Eastern Art, birds are also an important and popular form of imagery and symbolism, signifying longevity, luck and love. Produced in a deep regal teal on a luxurious Oriental paper with a subtle glistening shimmer of silk.
Paint
Graham & Brown – Paint collection launching soon in US.
Tiru, this serene teal paint color was inspired by the Graham and Brown 2019 Kabuki trend. Kabuki is a classical Japanese dance-drama, which showcases a bold, avant-garde color palette. Taken from the backdrop of Tori Teal wallpaper, Tiru, celebrates tranquility, good luck and longevity.
Artwork
Vintage – Found at local antique shops
At first, I was in a panic for artwork. I'm always drawn to vintage botanicals and actually found a bunch of them that I collected at yard sales in our barn. I quickly realized that we didn't need much artwork on the walls because the Chinoiserie wallpaper was so beautiful on its own.
Bed Linens
Zara Home | Sponsor
Rug
Loloi | Sponsor
The colors go wonderfully and I love how Loloi took a traditional oriental pattern and updated it with a sheared-down pile and modern color palette.
Vase
Jill Rosenwald | Sponsor
We've always been a big fan of Jill's work and were so excited to have her design us a custom piece for our ORC makeover. They pink and Chinoiserie pattern is amazing, especially paired with fresh peonies!
Jewelry Box
Couture Lamps | Sponsor
Accent Tassels
Fabricut | Sponsor
Faux Greenery
Olive Branch by NDI | Sponsor
Crown Moulding
METRIE | Sponsor
Kimono
This is Kris' amazing kimono that he got from our friend Cheryl of The Highlands Foundry. She makes every piece by hand using vintage fabrics.
At Home With Ashley | Casey Keasler | Dorsey Designs | The Farmhouse Project | Home Made by Carmona | House of Funk | House of Jade Interiors | House Seven Design | House That Lars Built | Inspired by Charm | Jana Bek | Jessica Brigham | Kelly Golightly | Murphy Deesign | The Pink Pagoda | Sarah Gunn| Sherry Hart Designs | Sugar & Cloth | Veronica Solomon | Vintage Revivals | Media Partner BH&G | TM by ORC