NOT SURE WHAT TO DO WITH ALL YOUR GREEN TOMATOES IN THE GARDEN? WE'RE MAKING A SIMPLE GREEN TOMATO SALSA
Though they are related, green tomatoes—simply under-ripe red tomatoes (Solanum lycopersicum)—are not the same as tomatillos (Physalis philadelphica), a green (and sometimes purple) husked fruit of the same family. Both are more tart than sweet with a texture that is rather dry making them nearly interchangeable when you're in a pinch.
While salsa verde made from tomatillos is a classic Mexican sauce, green tomatoes are rarely used in cooking. Our garden, however, usually has an abundance of green tomatoes at the very end of the growing season. What follows is our adaptation of the Ball Complete Book of Home Preserving's recipe for Green Tomato Salsa.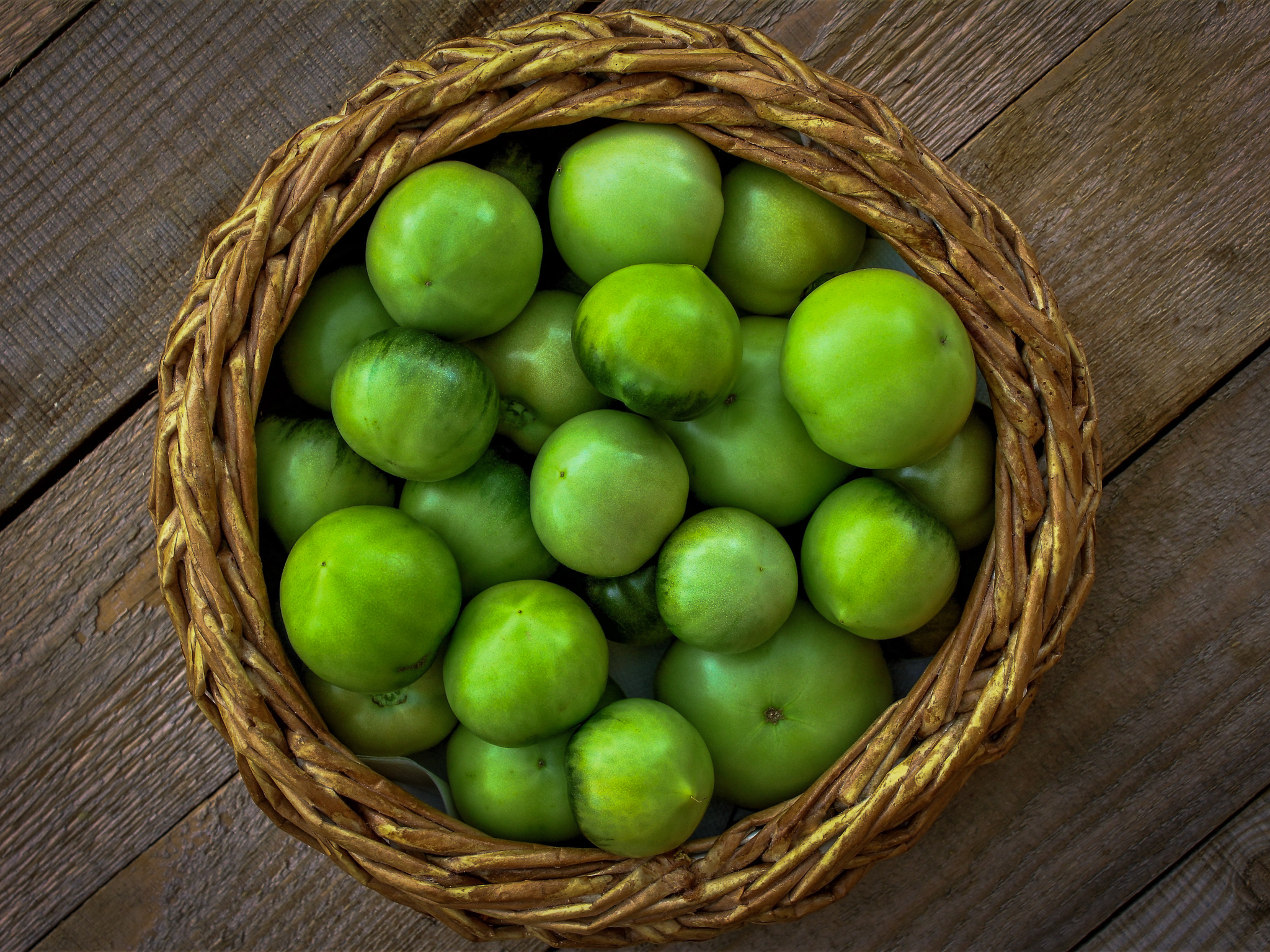 Even though this recipe employs a substitution don't think of it as a compromise. The healthy volume of lime juice not only acidifies the recipe, making it safe for home canning, but also makes the green tomatoes taste a little more like tomatillos. The combination of dried and fresh hot peppers gives this salsa some nice depth. We also love the texture: because green tomatoes are quite dry—they remind us of eggplants—the salsa, even when processed in a water bath canner will have the consistency of pico de gallo. You could process the salsa further with an immersion blender to make a simmer sauce that would be delicious with your favorite protein.
Finally, you don't have to can the salsa (it will last a week or so in the refrigerator if you don't) but if you do it might be a good idea to review proper technique over at the National Center for Home Food Preservation.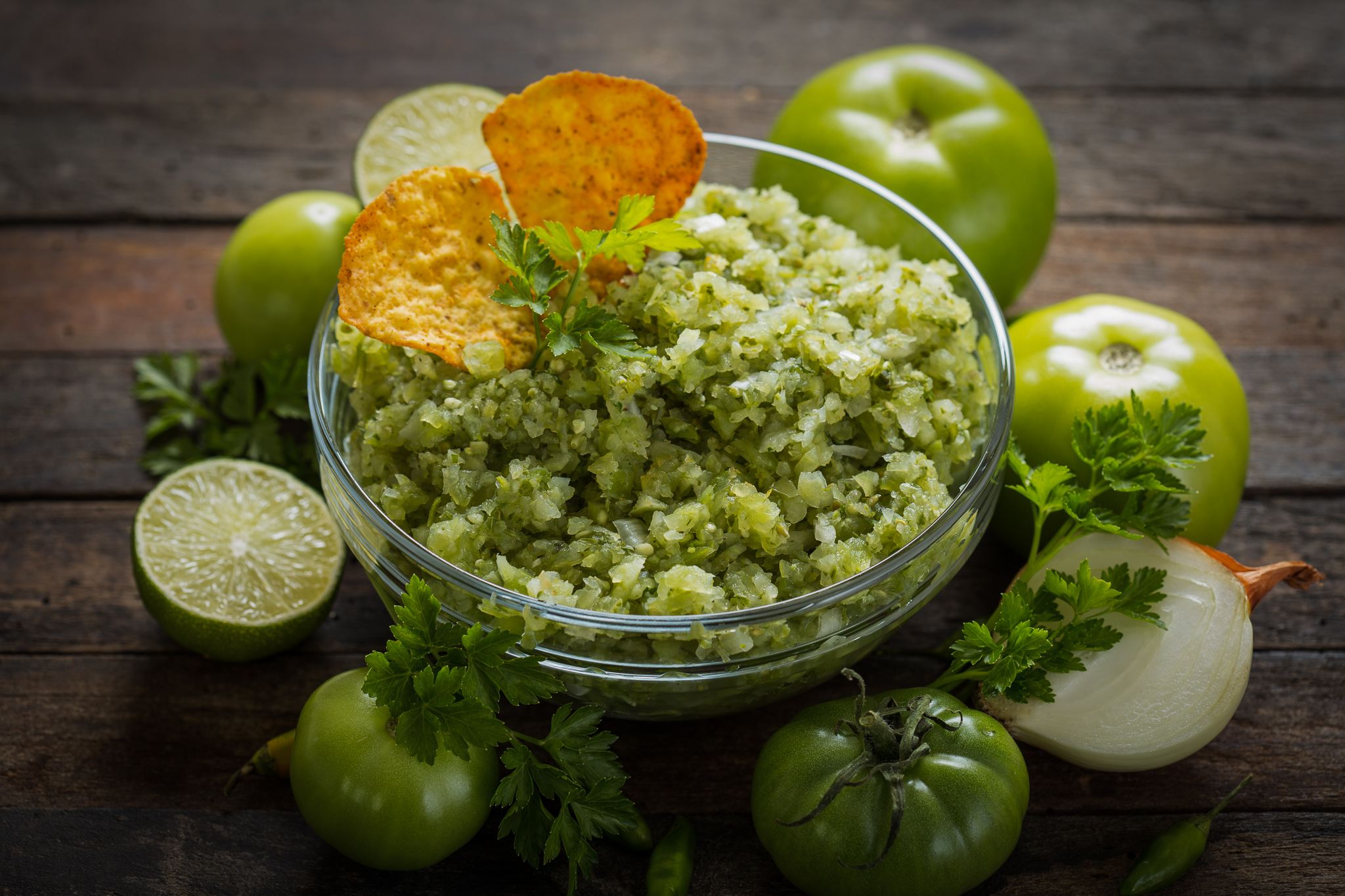 Recipe makes about six 8oz jars or three pint jars.
7 cups cored green tomatoes, diced
2 guajillo peppers
2 pasilla oaxaqueña or chipotle peppers
2 fresh jalapeño peppers, minced
2 cups finely chopped red onion
2 cloves garlic, minced
½ cup lime juice
1 teaspoon salt
½ cup loosely packed cilantro, minced
2 teaspoons toasted cumin seed, ground
1 teaspoon dried Mexican oregano
1 teaspoon freshly ground black pepper
Prepare the Peppers
Toast the guajillo and pasilla peppers on a dry pan until fragrant. Cut away and discard the stem, membrane and seeds. Finely mince the prepared peppers.
Cook the Salsa
Combine the tomatoes, peppers, onion, garlic, lime juice, and salt in a large pot set over medium-high heat. Bring to a boil, stirring constantly. While the lime juice and salt will eventually soften the tomatoes don't expect a soupy, loose salsa.
Once at a boil add the cilantro, cumin, oregano and black pepper and cook for 5 minutes.
Canning
If you are preserving your salsa, ladle it into prepared canning jars, leaving a half-inch headspace and process for 20 minutes. Tip: To more easily fill the jars first pour the salsa from the pot you cooked it in to a large measuring cup or pitcher.