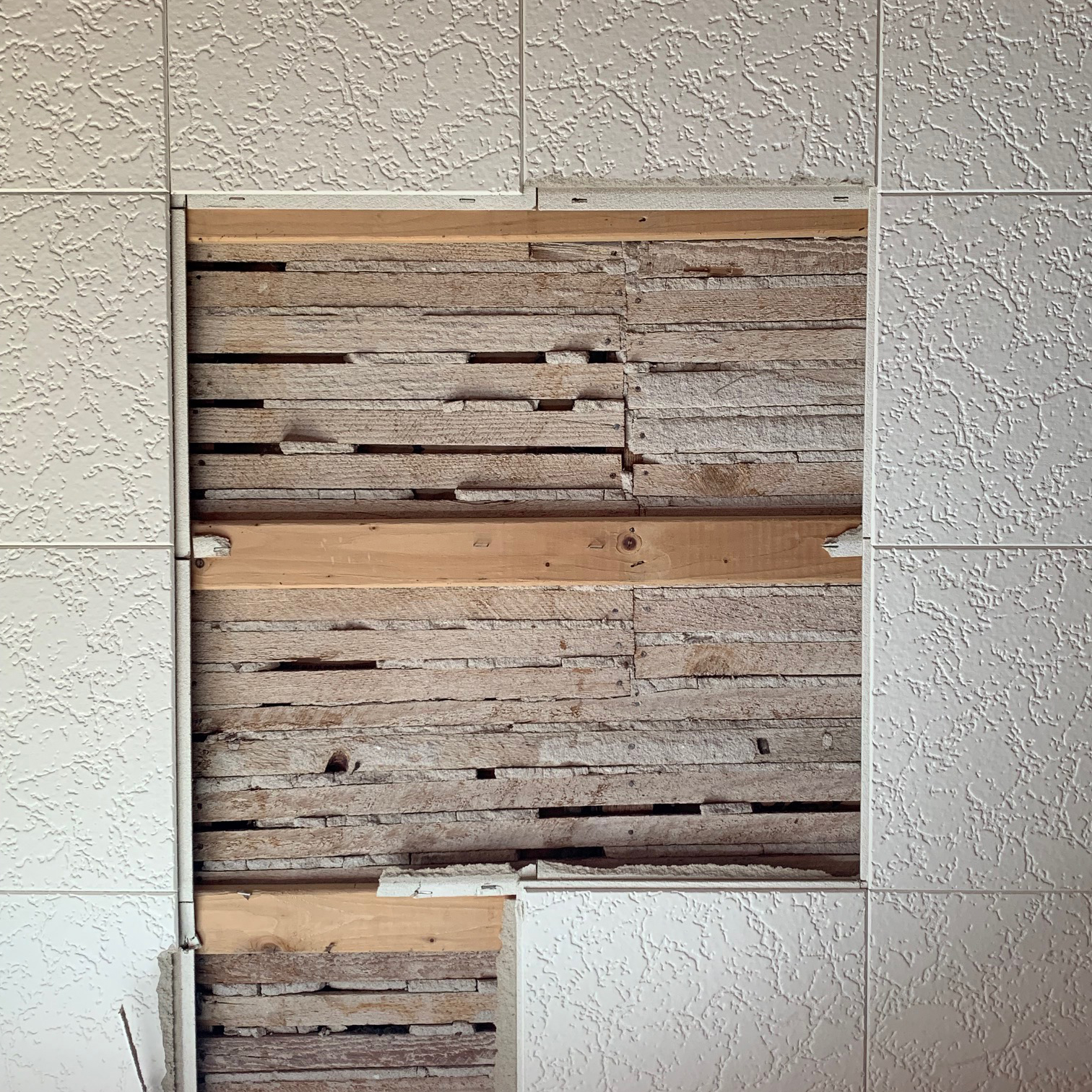 It's already week two and we're off to a bit of a slow start. Over the weekend we discovered that there was NO CEILING under the ugly acoustic tiles where in other rooms we've found original plaster walls in salvageable shape. Yep! No cracked plaster to patch, repair or replace. There are signs that there was a plaster ceiling but a few decades ago it probably just crumbled away with neglect. As much as we hate acoustic tile, its use had its reason. You'll see these tiles used a lot in our region, and especially in old farmhouses. These tiles were usually a quick fix to help insulate the ceiling from our bitter winters, or an inexpensive alternative to repairing or replacing plaster. In the case of our room, we think it was installed to cover up the missing plaster ceiling. After some estimates we realized putting plaster back up was just too expensive, even for this small bedroom. So we're going to drywall the ceiling and call it a day.
Now, on to the good stuff! We're so excited to share with you some inspiration behind our One Room Challenge bedroom makeover. I knew I wanted to find a wallpaper for this room and for the past year I've been obsessing over historic chinoiserie prints. I stumbled upon Graham & Brown one night during a Pinterest pinning spree. I instantly fell in love with their Tori Teal Wallpaper. Inspired by chinoiserie, this design was originally drawn by hand and hand painted right in their design studio in England. They also sent us the matching teal paint from their newly launched paint collection. We're lucky enough to try the paint before it launches in the US! As a historic company, Graham & Brown started creating wallpaper in the forties when they couldn't find luxury wallpaper that suited their needs. They have some of the best prints and patterns I've seen out there, much of it inspired by historic design elements and updated with a fresh modern palette.
Adding to the room's theme, you'll see a new queen size bed (hopefully we find one!), some hand-selected antique pieces, new drapes, lighting, and artwork. In our approach to restoring our home you'll always see elements inspired by nature and where we live in Upstate New York. So you'll be sure to see a lot of that in this room, too.
That's it for now. Let us know what you think about the direction we're going in. I'm pretty sure we'll have some changes here and there as we progress which is totally normal…for me anyway. See you next week!