THE FANCIEST POP-TARTS YOU'LL EVER EAT.
Well, we're about three weeks into serious social distancing and a very strange time for us all. Our daily routines have been disrupted and there is some serious uncertainty for the foreseeable future. Kris and I normally work from home so our daily routines haven't been altered too much with the exception of no entertaining or socializing with others. We've been spending our quiet weekends together planning summer projects, cooking, baking, and trying real hard not to kill each other.
The list of baking projects is getting long and we're all stocked up with flour and butter (who needs toilet paper?). Although Pop-Tarts were around since the late 60's, they became wildly popular in the 90's with new pop-culture branding and on-the-go breakfast trends. If you're a child of the 90's, we're pretty certain you've tried Pop-Tarts since they are Kellogg's most popular brand in the US to date with millions of units sold each year. With both our moms being working single parents these filled breakfast squares were the perfect answer for a quick weekend treat. I'll admit that these were also my breakfast go-to during collage and those long days working in the fashion industry, too!
To bring us back to those wonderful memories of the 90's we wanted to recreate a Pop-Tart with a fancier and more sophisticated flavor (yes, we're very fancy gentlemen here at the farmhouse). What we love about this simple recipe is you can add your own unique flavors or the kiddos' favorite fruit filling. As you'll notice, the crust is a pretty standard pie crust recipe so you can always use your own. We had some lemon curd leftover from another baking project that pairs wonderfully with the rose water we usually use for cocktails.
Happy baking and let us know what unique Pop-Tart flavor combinations you come up with!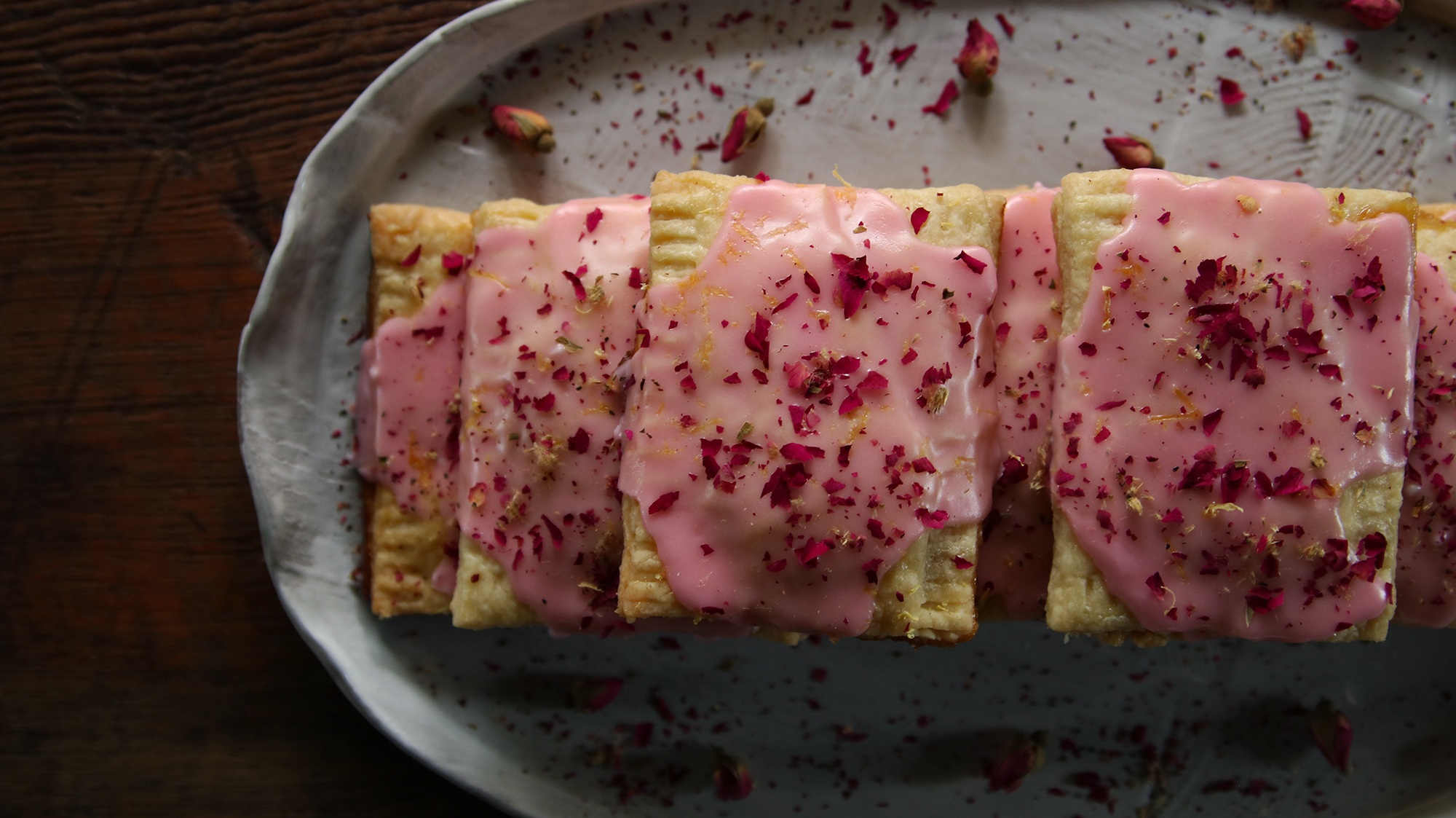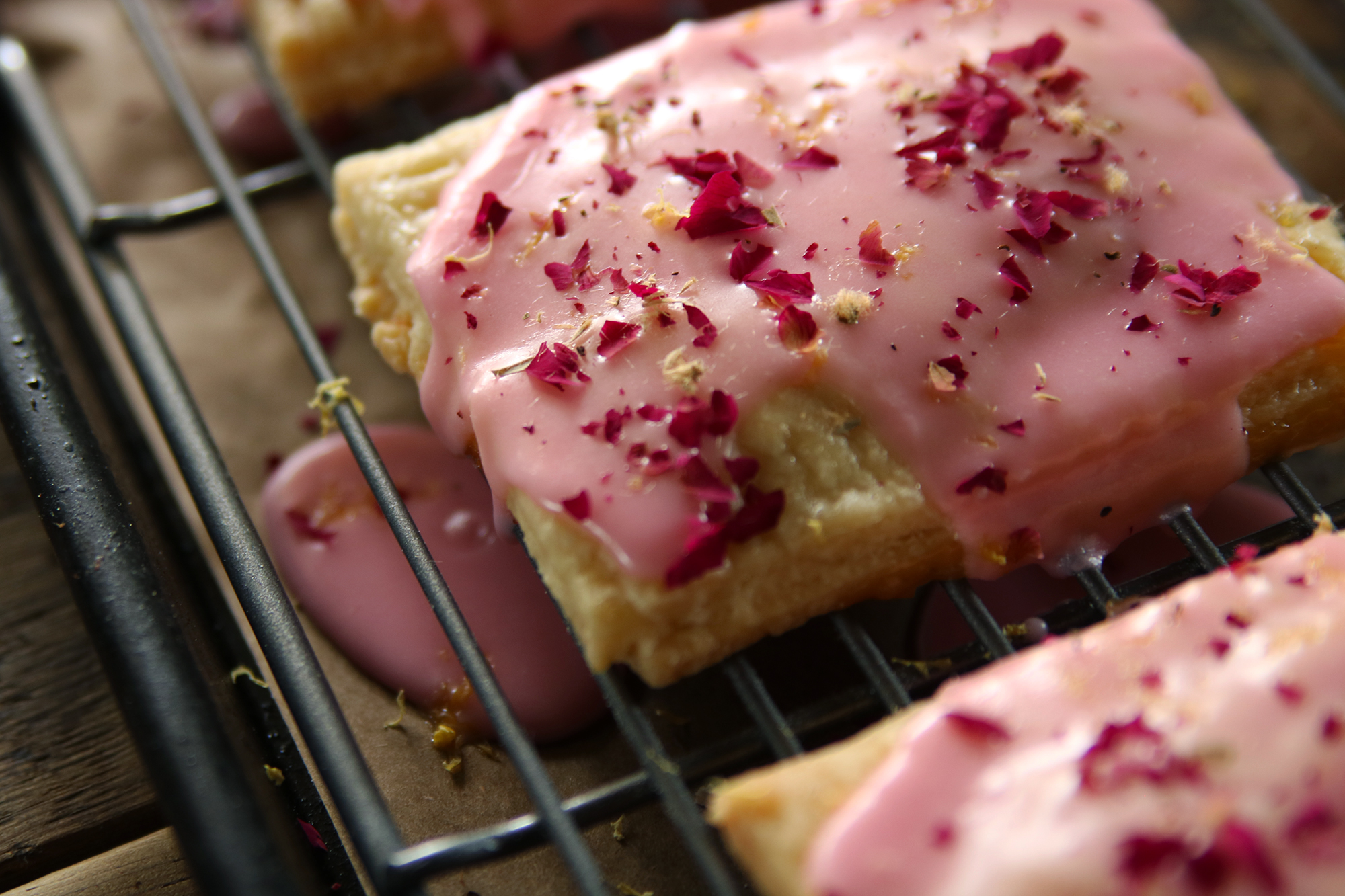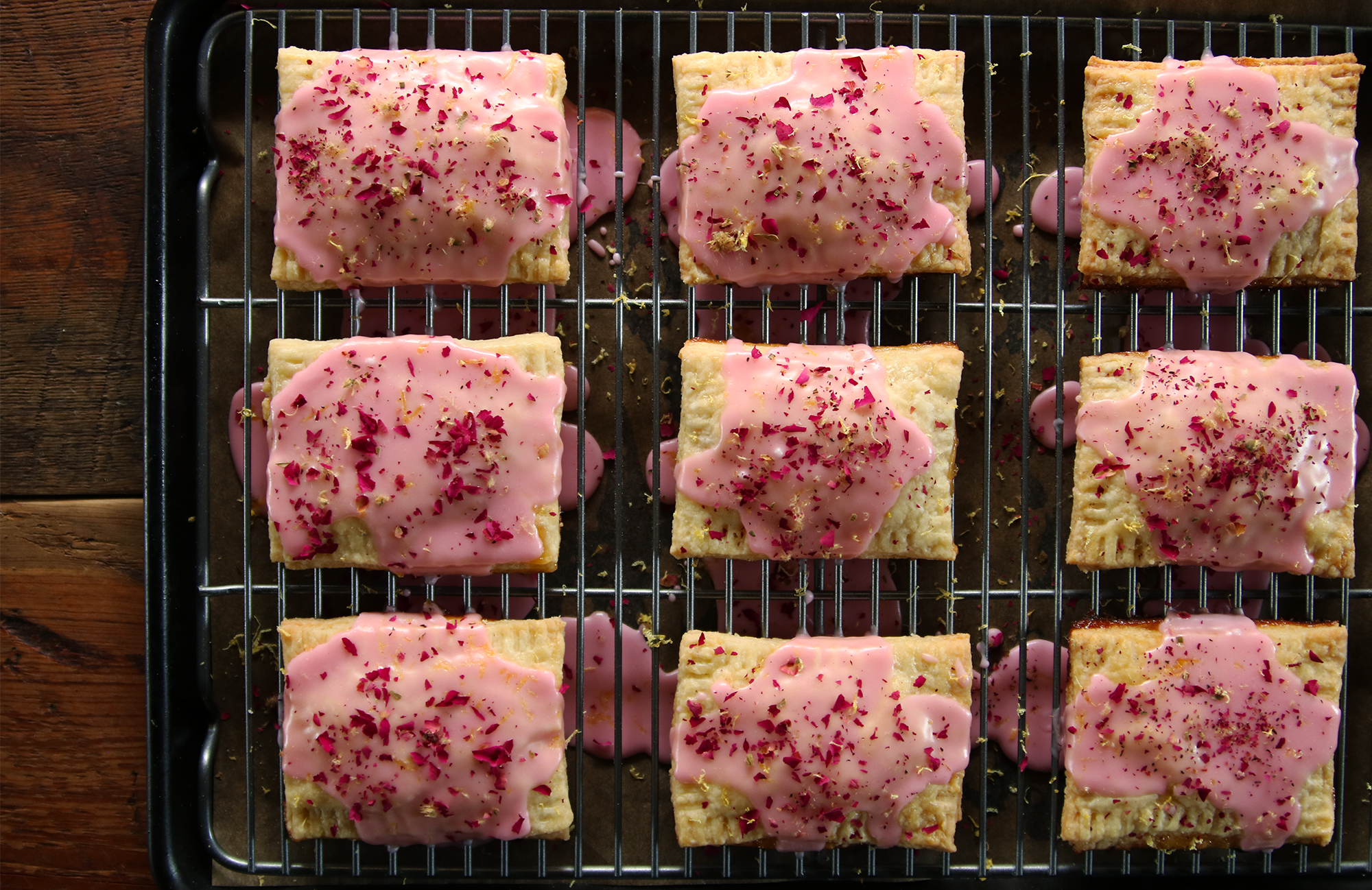 In a food processor, pulse flour, salt, and sugar several times to combine. Add butter. Pulse until mixture resembles coarse meal.

Add 2 tablespoons of ice water. Pulse until dough is crumbly. If dough is too dry, add another 2 tablespoons of ice water.

Divide dough into two equal size pieces. Flatten to form two disks. Wrap in plastic wrap and refrigerate for at least 1 hour.
Lightly dust a clean, dry work surface with flour. Remove one of the chilled doughs from the fridge and place in the center of your work surface. Dust the dough and rolling pin with flour. Working quickly, roll the dough out evenly while turning the dough to prevent from sticking to your work surface. Roll out until you have an even 1/8-inch thickness. Remove one of the doughs from the fridge. Place a large piece of saran wrap over a work surface, then sprinkle flour over it. Flour a rolling pin. Working quickly, roll the dough out into a 10″x13″ rectangle.

Use cardboard from your recycling bin to cut out a 3" x 4" rectangle. Use your stencil and butterknife to cut out 9, 3" x 4" pieces and place transfer to a large, parchment-lined baking sheet. Place the baking sheet in the freezer while repeating the process with the second half of the dough. You will have a total of 18, 3" x 4" pieces of dough.

Preheat oven to 350°F. Remove baking sheet from the freezer and brush the edges of your 9 pop tart bases with a heavy cream (this will help the dough to stick together).

Spoon a tablespoon of lemon curd into the center of each pop tart base. Do not use more than 1 tablespoon of curd for each pop-tart base.

Place the remaining 9 dough pieces over the filling of the pop tart. Press down on the edges slightly to seal the dough together. Using a fork, crimp around the edges of the entire pop-tart.

Brush remaining heavy cream over pop tarts, then use your fork to puncture 4 rows of air-holes on the top of your pop-tarts. Bake for 30 minutes and allow to cool completely.
Whisk together the powdered sugar, heavy cream, and rose water in a double boiler on low heat to help liquify the mixture more. On a cooler rack over a baking tray, spread the icing over the pop tarts. Sprinkle crushed edible rose buds over each pop-tart while icing is still wet.

To get the pretty pink icing we added a drop of Nature's Flavors Organic Pink Food Coloring (not necessary for this recipe).