A beautiful life, lived simply
The Farmhouse Project online shop is where we share the things that bring us joy and help us live thoughtfully and simply every day.
Each item is carefully handcrafted by us or a local artisan in Upstate New York, made from locally sourced materials, and infused with our love for sustainable living – the cornerstone of everything we do around here.
It all started with the market tote bag.
We needed a sturdy and stylish tote for our weekend jaunts to the farmers market. Those flimsy, heavily-branded reusable ones from the grocery store just weren't doing it for us. So…we designed our own.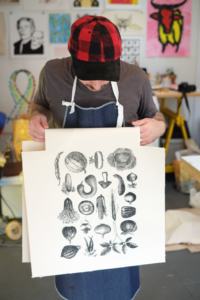 And even though this market tote bag was made purely for our own needs, friends and followers were quick to ask where we got the tote whenever they saw it. It turned out we weren't alone in wanting something better and that's when we realized this was an aesthetic and lifestyle that people were craving.
Shawn's background in fashion and home product design kicked in and we started producing a range of TFP-branded items that reflect our passions for all facets of entertaining and living a low-impact, sustainable lifestyle and things have just taken off from there.
From naturally dyeing table linens with black walnuts from our property and onion skins from the farmers market, to screen printing bags, napkins, and towels in our studio-slash-barn, we've taken a mindful approach to the design and production process to be as gentle as possible on both the earth and your wallet.
We're very proud of the fact that all of our products have been designed to embody the "Rescue, Repurpose, Reuse" spirit and have more than one life to them. The vintage-inspired glass candle containers turn into the perfect vessels for frosty margaritas. Denim and corduroy salvaged from local thrift stores have been upcycled into our skinny wine totes.
Because in this consumer-driven throw-away society, sometimes you just need to take a step back and slow down. Preferably with a cocktail in hand (at least for us).
Consider this a virtual invitation into our simplified life where you can hang out and take a bit of farmhouse living back home with you, wherever you might be.