HOLIDAY TIPS TO STYLE THE ULTIMATE BAR CART
We teamed up with our friends at Crate and Barrel this holiday season to pick our favorite bar accessories you can't live without. We're also showing you tips to style your very own bar cart that's perfect for holiday entertaining. Follow our simple steps and check out our favorite bar accessories below and make sure you have a festive cocktail recipe ready to go. Or, make our exclusive Crate and Barrel libation, the Rosemary Apple Cider Bourbon Cocktail (scroll down for recipe)!
Step1: Find the coziest nook in your home perfect for a bar cart, preferably where you entertain the most.
Step 2: Like all design projects, start with artwork. Hang a statement piece above your bar cart. Already have art hanging? Lean a small complimentary piece on the bar cart and don't be afraid to layer multiple pieces!
Step 3: Add your favorite spirits. We like to house our favorites on the bottom shelf, keeping them refreshed seasonally for our cocktail pleasures. If you're like us, you have way too many spirits for a bar cart. Keep the rest stored in a cabinet or buffet nearby for easy access.
Step 4: Glassware—my obsession! Keep your most prized collection of highballs, lowballs, coupes and everything in between on display.
Step 5: Because (almost) all cocktails should be chilled to perfection, keep a small ice bucket handy.
Step 6: Barware is a must for the top shelf of your bar cart. Shakers, stirrers, bar tools, a muddler, and coasters are a few of the essentials.
Step 7: Reusable cocktail napkins and a towel because we all have that one guest who makes a spill (it's usually me!)
Step 8: Whether it's an iconic classic or an innovative cocktail, always have your favorite recipe books on hand.
Step 9: Bitters, mixers & fresh citrus. You can't really make a decent cocktail without them!
Step 10: Set the mood with some ambient lighting on your bar cart. Candles (non-scented) always do the trick but you can also use a great accent lamp to set the perfect vibe for entertaining.
Step 11: Greenery or fresh flowers. Real or faux, every bar cart needs a piece of nature. We like to play with height and proportion, so don't be afraid to make a dramatic statement with an oversized tree or floral arrangement to wow your guests or impress yourself!
Crate and Barrel is a great source for casual, easy and effortless entertaining that works for any style home. We listed our favorite bar accessories with links at the bottom of this page.
Watch our video below!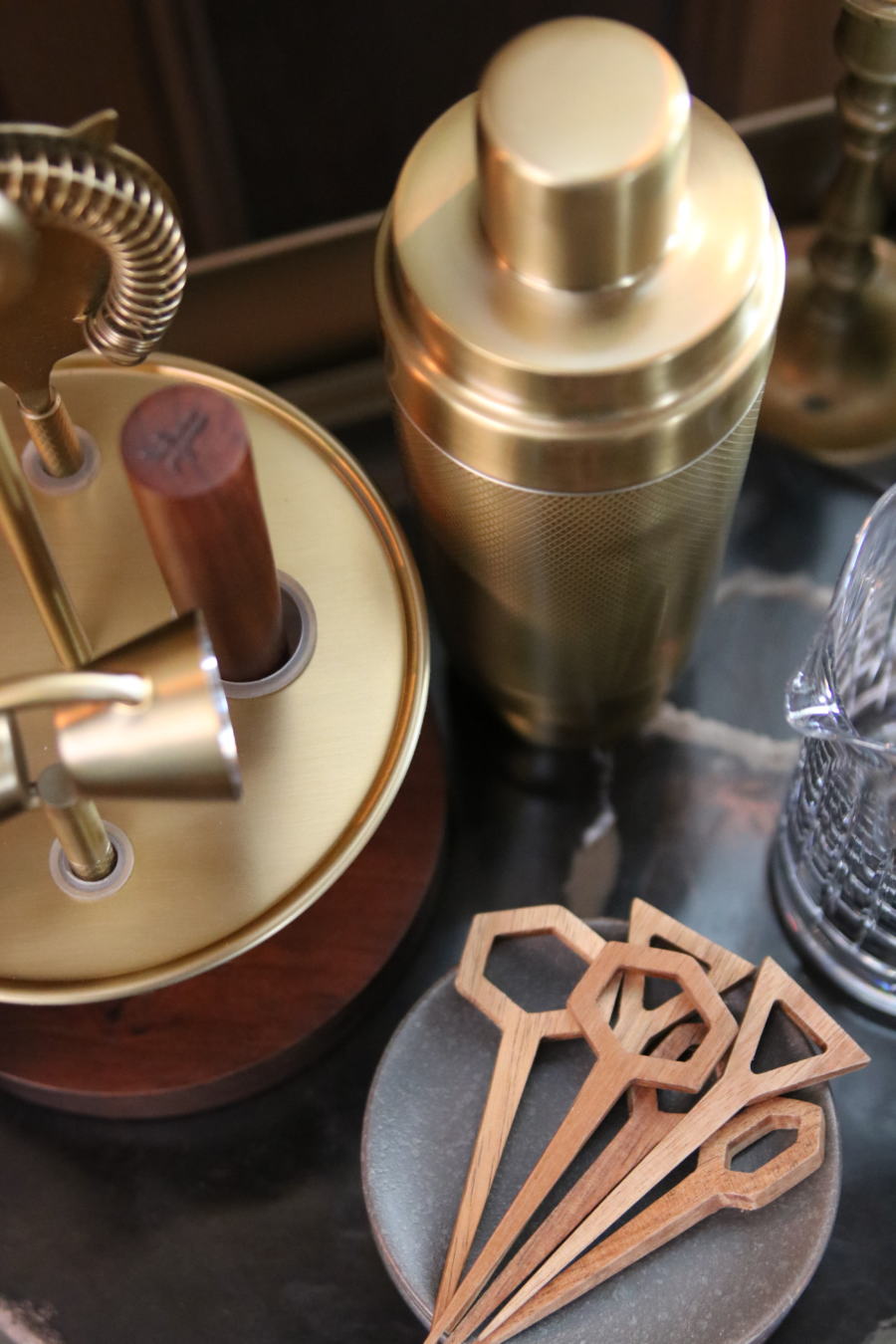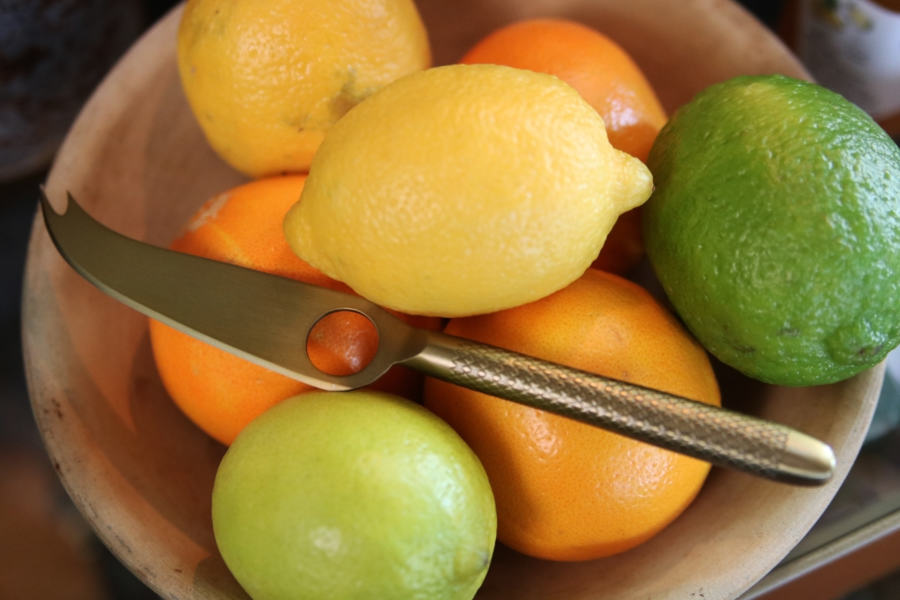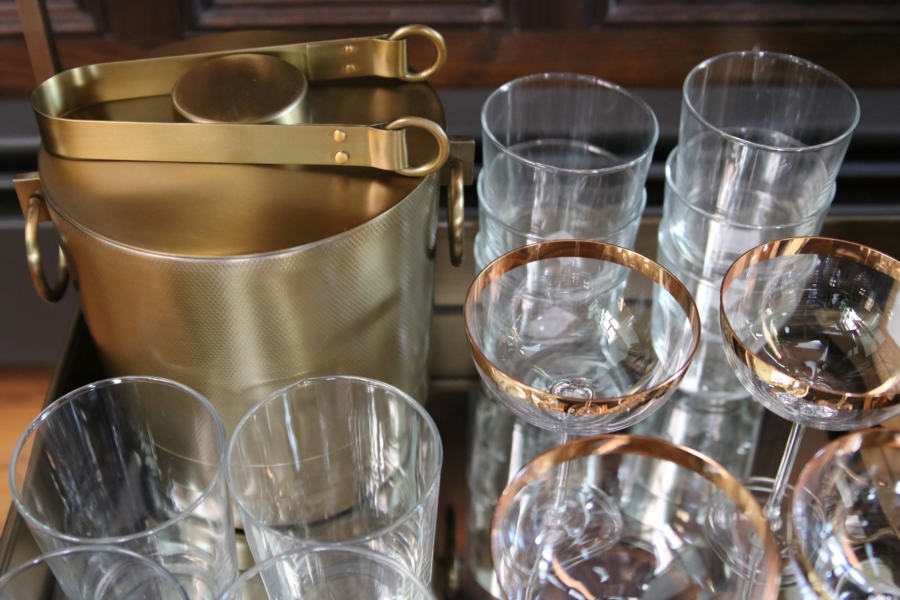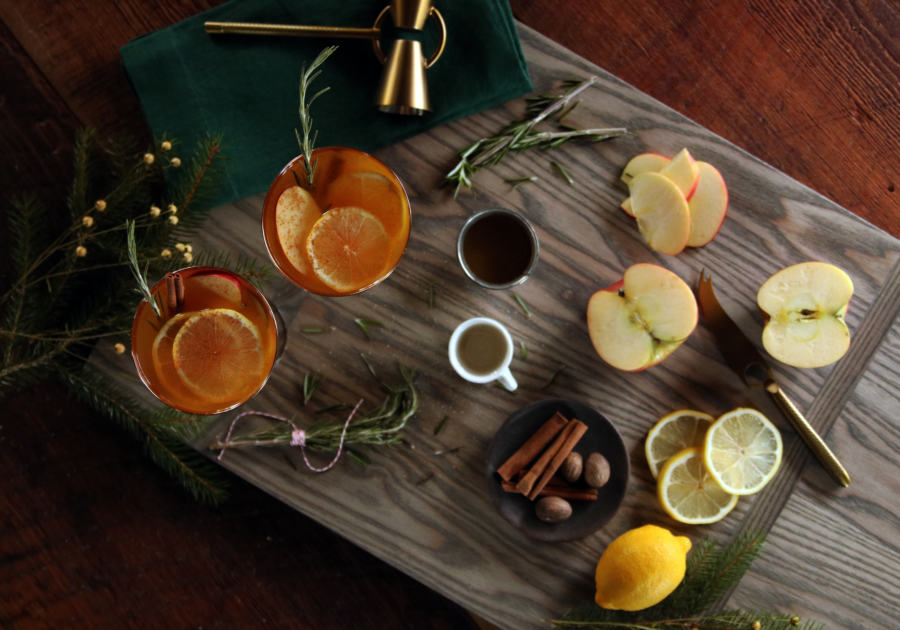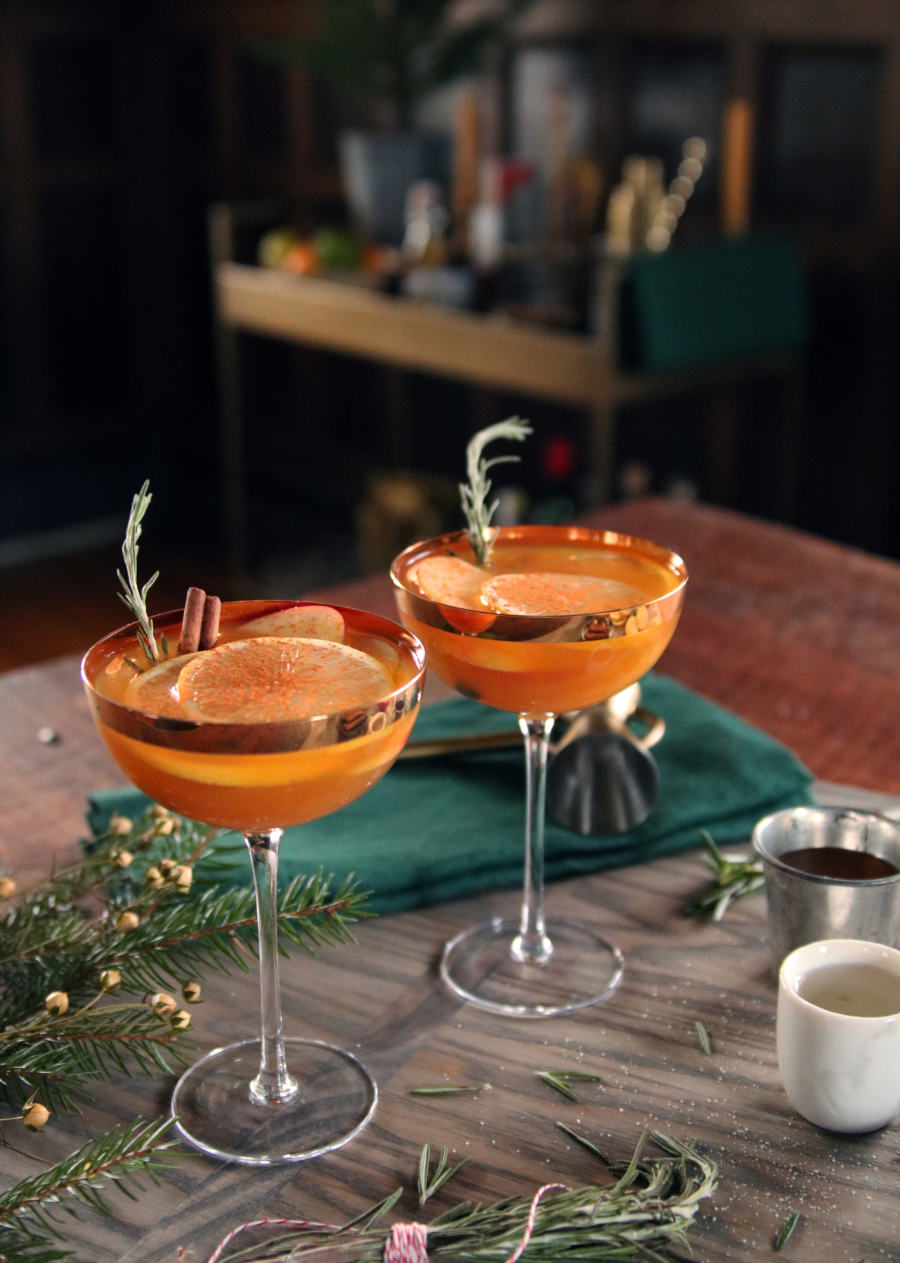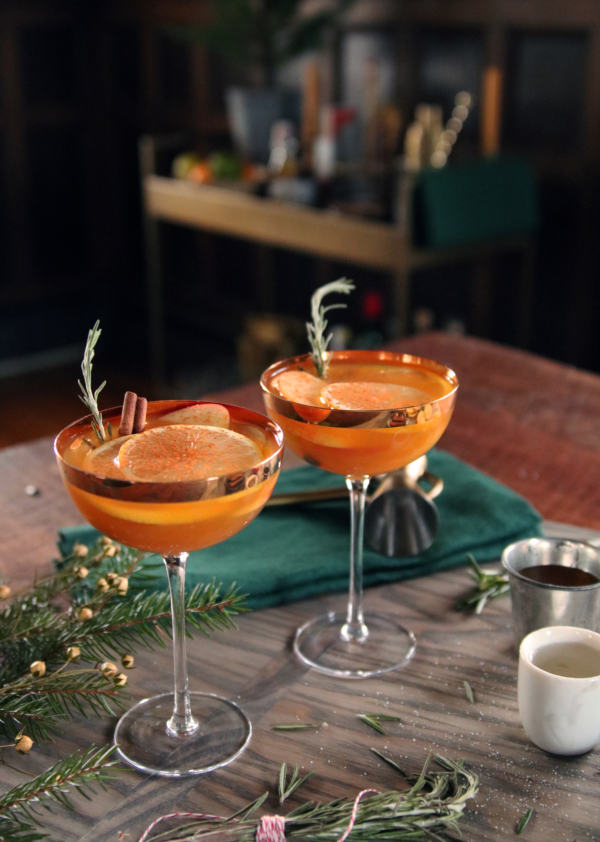 | | |
| --- | --- |
| | |
In a shaker combine apple cider, bourbon, rosemary simple syrup and lemon juice and a few ice cubes. Shake vigorously. Pour mix into glass and garnish with apple and lemon slices, cinnamon stick and dusting of cinnamon and nutmeg.
Combine 1 cup of water, 1 cup of sugar, and rosemary 3 rosemary sprigs in a small saucepan. Bring to a boil, stirring until sugar dissolves. Simmer for 1 minute. Remove from heat and let syrup steep, about 30 minutes.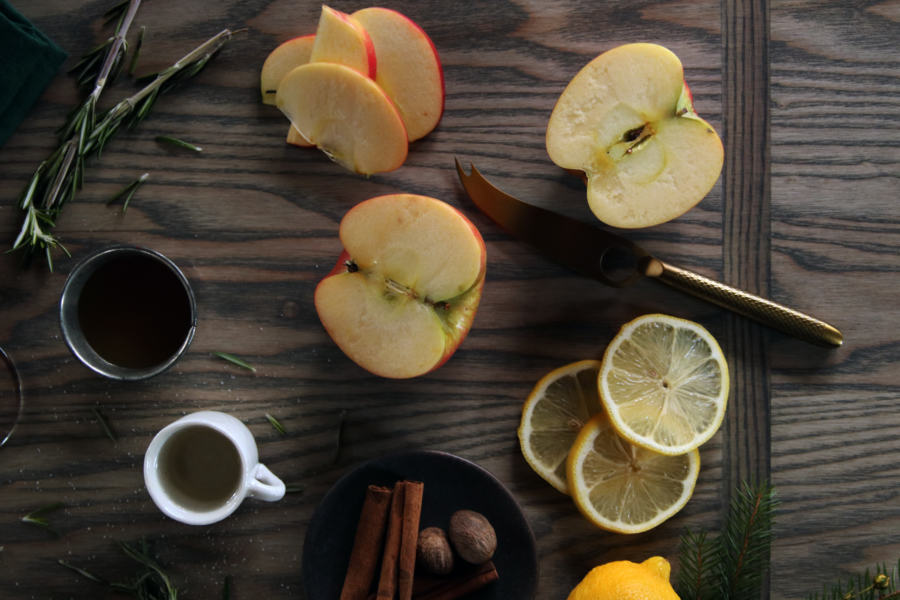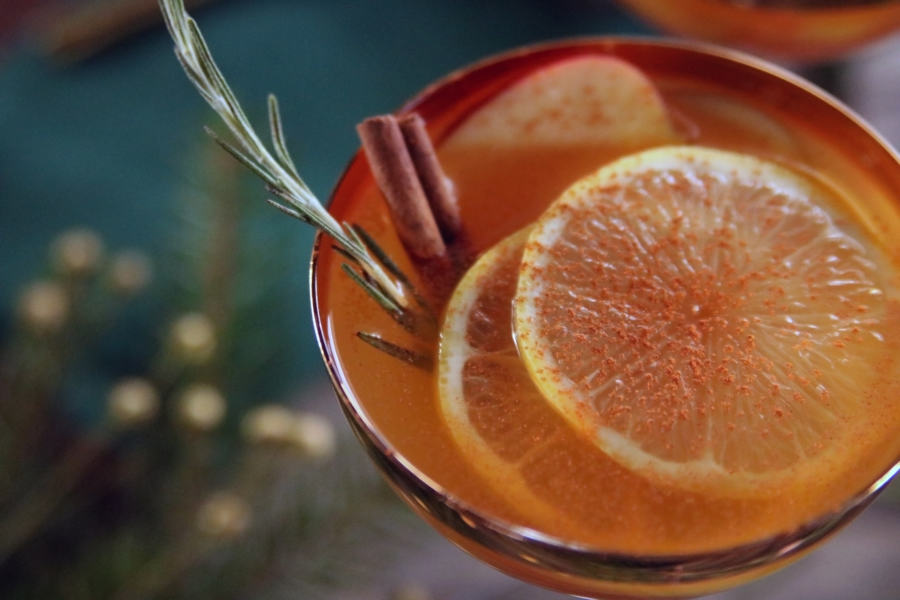 Crate and Barrel Source List:
Antique Brass Bar Cart
https://www.crateandbarrel.com/libations-bar-cart/s303224?utm_source=social&utm_medium=influencer&utm_campaign=thefarmhouseproject
Frye Cocktail Shaker
https://www.crateandbarrel.com/frye-cocktail-shaker/s298546?utm_source=social&utm_medium=influencer&utm_campaign=thefarmhouseproject
Frye Ice Bucket
https://www.crateandbarrel.com/frye-ice-bucket-and-tongs-set/s298587?utm_source=social&utm_medium=influencer&utm_campaign=thefarmhouseproject
Frye Bar Tool Set
https://www.crateandbarrel.com/frye-bar-tool-set/s298617?utm_source=social&utm_medium=influencer&utm_campaign=thefarmhouseproject
Wood Geo Appetizer Picks
https://www.crateandbarrel.com/wood-geo-appetizer-picks-set-of-6/s292277?utm_source=social&utm_medium=influencer&utm_campaign=thefarmhouseproject
Cole Coasters
https://www.crateandbarrel.com/set-of-4-cole-coasters/s548367?utm_source=social&utm_medium=influencer&utm_campaign=thefarmhouseproject
Vance Mixing Glass
https://www.crateandbarrel.com/vance-mixing-glass/s157611?utm_source=social&utm_medium=influencer&utm_campaign=thefarmhouseproject
Mini Bar Cocktail Book Set
https://www.crateandbarrel.com/the-mini-bar-cocktail-book-set/s302083?utm_source=social&utm_medium=influencer&utm_campaign=thefarmhouseproject
Gold Bar Spoon
https://www.crateandbarrel.com/gold-bar-spoon-with-muddler/s209397?utm_source=social&utm_medium=influencer&utm_campaign=thefarmhouseproject
Sphere Ice Tray
https://www.crateandbarrel.com/peak-sphere-ice-tray/s422788?utm_source=social&utm_medium=influencer&utm_campaign=thefarmhouseproject
Gold Coupe Glass
https://www.crateandbarrel.com/pryce-gold-coupe-glass/s312646?utm_source=social&utm_medium=influencer&utm_campaign=thefarmhouseproject
Bodega Mixed Glasses
https://www.crateandbarrel.com/bodega-mixed-glasses-set-of-18/s461364?utm_source=social&utm_medium=influencer&utm_campaign=thefarmhouseproject
Feast Platter
https://www.crateandbarrel.com/feast-platter/s186961?utm_source=social&utm_medium=influencer&utm_campaign=thefarmhouseproject
Potted Cypress Tree
https://www.crateandbarrel.com/faux-potted-cypress-tree-33/s375416?utm_source=social&utm_medium=influencer&utm_campaign=thefarmhouseproject
Artisan Wood Serving Bowl
https://www.crateandbarrel.com/two-tone-artisan-wood-serving-bowl/s286797?utm_source=social&utm_medium=influencer&utm_campaign=thefarmhouseproject
Serving Board
https://www.crateandbarrel.com/j.k.-adams-heritage-serving-board/s607992?utm_source=social&utm_medium=influencer&utm_campaign=thefarmhouseproject
Dark Green Linen Napkin
https://www.crateandbarrel.com/helena-dark-green-linen-napkin/s369900?utm_source=social&utm_medium=influencer&utm_campaign=thefarmhouseproject
Appetizer Plate
https://www.crateandbarrel.com/baird-6.5-appetizer-plate/s184535?utm_source=social&utm_medium=influencer&utm_campaign=thefarmhouseproject
Petrified Wood Serving Board
https://www.crateandbarrel.com/petrified-wood-serving-board/s134495?utm_source=social&utm_medium=influencer&utm_campaign=thefarmhouseproject